The Story of Osho's Luck. Choose a Card and Read the Parable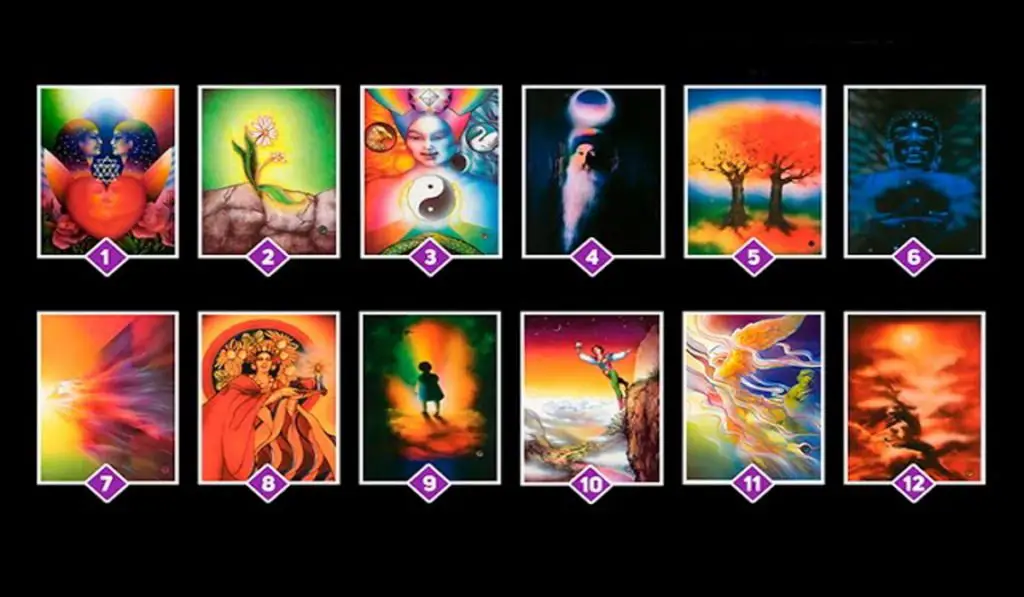 The famous Osho divination. Choose a card and read the answer to the question that worries you
Remember one important thing: when we predict the future, we create horoscopes, we divine by the palm of our hand, Taro, etc, t's all mainly human subconscious reading. It is more of the work of the past, but since the past comes from the future, we can also know the future. (Osho)
Ask a question that has been bothering you for a long time, choose a card from 1 to 12.
Card n.1: LOVE
Once the mighty king had to choose an heir, but his twin children were both equally intelligent, brave, and worthy.  He gave each one a bag of flower seeds, saying "whoever best preserves them will become a sovereign." 
The first brother hid the gift in an insidious chest, the second planted them.  Three years later, the king asked what they had done with the seeds. 
The first son took the seeds from the crate and found that they were moldy, the second showed his father a beautiful flower garden: "here are your seeds, when they mature I will reap your fruit". 
Moral: love, like seeds, must be sown.  Otherwise, nobody will be able to use it.
Card n.2: COMPARISON
Once a trader who passed a plantation saw a slave.  He stopped, fed him, and gave him a drink.  After 3 years, they met again. 
The slave replied: "everything passes, this too will pass." The slave became the vizier. 
 The ex-poor generously flooded the jewelry merchant and uttered the same sentence.  Sometime later, the merchant arrived at the tomb of the vizier and saw the writing: "Everything passes". 
"Well, it won't pass," he thought bitterly. And a few years later the writing was washed off with water.  Only then did the merchant agree: "In fact, everything passes."
Moral: even if the course of events doesn't suit your desires, don't waste your energy in the fight. Everything goes as it should.
Card # 3: ACCEPT YOURSELF
After leaving the garden early in the morning, the king discovered that the plants were drying out. The oak tree was dying because it couldn't be as tall as a pine tree. 
The pine slowed down because it could not multiply, like the grape.  And the grapes were slow because they didn't smell like a rose. 
The only honeysuckle flourished in lush color.  Because? The king wondered. And the honeysuckle replied, "I realized that when you planted me, you wanted me to grow honeysuckle. 
And I decided: since I can't be anything else, I will try to become the best representative of my kind. " Moral: be respectful and accept yourself as you are.
Recommended: Choose One Mandala To Reveal What Decision Your Soul Has Made For You
Card n.4: WISDOM
An old toothless sheik came to the doctor and began to complain: O you, who help all people, help me too. As soon as I fall asleep, dreams catch me. 
I dream of coming to the square in front of the harem.  And women are delightful, like the flowers in a wonderful garden. But as soon as I appear in the courtyard, everyone disappears immediately through a secret passage. 
The doctor frowned, began to think hard, and finally asked: You probably want to take some medicine to get rid of this dream. The sheik looked at the doctor with an absent look and exclaimed: But not this!
The only thing I want is that the doors of the secret passage are locked, and therefore women will not be able to escape from me. Moral: people would be happy if they only wanted what they had, without taking over someone else's property.
Card n.5: GENERALITIES
The philosopher had a pair of shoes. He once asked the shoemaker to urgently repair them.  But the shoemaker was already closing. And he said to him, "Why don't you come tomorrow? 
"The thing is, I only have one pair of shoes and I just can't help it.  "I'll give you a pair of worn-out shoes for today." And the philosopher replied: "What? Wear someone's shoes? Who do you take me for? 
"Why do you mind wearing someone else's shoes?" Do you really not mind wearing the thoughts and ideas of others in your mind? Moral: there is nothing in the world that belongs to you exclusively. 
In fact, everything is in common. Even thoughts. 
Card n.6: ENERGY
Once upon a time, there was a company that did a bad job with Angulimal.  The man was angry and vengeance promised to kill a thousand people. 
He cut off each finger and made a necklace out of it.  There were already 999 victims when Angulimala met the Buddha. 
The wise man asked the killer to satisfy his last wish: "Cut a branch of a tree so beautiful. Bring it to me. And then glue it back to the tree. " 
Angulimala raised his eyebrows in surprise, and Buddha continued: "If you cannot create, you have no right to destroy." Morality: transforms energy into a useful cause, otherwise it will find a different way of expressing itself: anger, anger, and aggression.
Recommended: 5 Powerful Mantras to Attract Prosperity and Luck
Card n.7: FLASH OF LIGHT
On a dark night, two people got lost in a dense forest. Both were terribly frightened but behaved differently.  Because one of the travelers was a philosopher and the other a mystic. 
The former thought about the reason for his deplorable situation and the latter simply believed in fate.  Suddenly a strong storm broke out.  And there was a flash in the sky.
The philosopher at that moment looked at the sky, as usual, lost in his thoughts and lost his way.  But the mystic looked at the path and during a flash of light saw the right path.
Moral: look carefully at the road and, without hesitation, go ahead! Philosophy is a mental process, it will not lead you to a goal.  Success requires action.
Card n.8: THANK YOU
It was evening when an elderly pilgrim went to the village and started asking local residents for an overnight stay.  He knocked on all the doors, but nobody opened it. 
Consequently, tormented by cold and hunger, the wanderer fell asleep under a sprawling fruit tree. And at midnight he woke up and saw how unusually good apple branches blossom in the moonlight. 
The elder stood up, bowed to the village, and thanked the people for not letting him starve. Moral: accept all that life gives with gratitude.  For human development, suffering and pleasure are equally necessary.
Card n.9: HOPE
There is a parable about a hunter lost in the jungle. For three days he wandered alone through the maze and stumbled upon a poor boy.  The men embraced and for some time both were incredibly happy. 
And then they wondered why they were so happy. The first said: "I got lost and I desperately needed to meet someone."  The second replied: "I too got lost and I was hoping to meet the manager. 
But if we both don't know the way, there is nothing to cheer about. Now we will wander together. Moral: happiness together is only possible when people know how to be happy alone. Otherwise, they make each other even more unhappy.
Recommended: The 7 Gemstones that Have the Power to Protect You! Choose Yours!
Card n.10: DETACHING THE FAMILY
Jesus was very young when Mary and Joseph brought him to Jerusalem for Easter.  The boy was lost in the crowd. The parents searched for a child for a long time and found it in the circle of scribes. 
The boy spoke to the wise men and they marveled at his non-childish mind. Joseph asked Jesus: "Why are you here? Your mother and I have been looking for you all day! "
"Why are you looking for me?" I am busy with my father's business. "I'm your father and I'm a carpenter." 
And you are sitting among the scribes."I meant my spiritual father." Morality: sooner or later, a child must detach himself from his parents, becoming independent not only physically, but also spiritually.
Card n.11: GATE OF PARADISE
A samurai approached a Zen master with a question: "Do hell and heaven exist? And where is their gate? "- Who are you? Asked his master.
"Samurai," replied the guest."Samurai? You look like a vagabond! The warrior's pride was wounded and he, without hesitation, drew his sword from the sheath. "
And the wise man smiled and said: "Here is the answer. Hell and paradise are not geographical, but psychological concepts. They are within us. Both doors are nearby. By acting unconsciously, we open the gates of hell and consciously of paradise.
Moral: learn to control your feelings and actions. It doesn't matter what you do, the important thing is to be conscious.
Card n.12: JOURNEY
The teacher and student went through the village on a fantastic vacation. As they approached the main square, the sounds of drums and people's shouts became so loud that the student clasped his ears with his hands. 
But to his surprise, the teacher, dancing, went towards the center of the square. After the holidays were over and the tired people returned home, the student asked the teacher:
"Master, how can you rejoice and celebrate with such a noise?" I haven't even heard my thoughts!"You were tuned to the noise, my friend, but for the villagers it was music." 
I just felt these sounds as they did it. Many people go through life, perceiving only noise. 
---
If you liked this article, leave a comment and share it with your friends!
Butterflies, Spiritual Messengers Who Try to Send You a Message!
Discover What Type of Magician You Are According to Your Zodiac Sign
Do You Want To Know Your Destiny? The Rune Stone You Choose Will Reveal It To You