Ikigai: What it is and How to Find Your Own Meaning in Life
Ikigai, or the Japanese concept of finding a reason to live and to wake up in the morning. How to find your own? At various times in our lives, all of us asked ourselves the fateful question: what are we doing here? What is the purpose of our being in the world? In Japan, the idea of ​​having a purpose in life is contained in the term Ikigai.
The concept of Ikigai can be summarized with our more familiar phrases "reason for living" or " reason for one's existence ". The Japanese believe that every person has their purpose in life and the time comes when it is necessary to get to grips with it by actively searching for it.
Many books, conferences, and workshops all over the world have tried and still try to explain the importance of finding your purpose in life, what you really want to do and what to invest energy and time. Becoming aware of this and carrying it forward in one's daily life can improve existence in several aspects: not only satisfaction and a sense of fulfillment but also greater health and money.
Recommended: Heart Chakra: How to Open it to Attract the Love we Deserve in Our Life
On the island of Okinawa, the southernmost and sunniest region of Japan known because there is one of the longest-lived populations in the world, the term Ikigai is translated as "a reason to get up in the morning".
In the land of the rising sun, the concept of Ikigaiis of fundamental importance. The term is made up of two words Ikiru (life) and kai (the realization of what is hoped for) but it can also indicate generically the person you love (in fact this is also an excellent reason to wake up in the morning!). For most Japanese people, Ikigai is something worth investing in even if discovering your purpose in life can take time and effort. There are those who almost immediately recognize their aspirations and attitudes, who instead slowly must bring them out in order to become aware of them.
Recommended: Each Flower Contains a Message – Discover the Flower That Corresponds To Your Month of Birth and What it Has to Say to You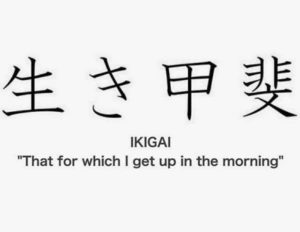 THE 4 QUESTIONS TO FIND YOUR OWN IKIGAI
In order to have answers, also regarding yourself and your aspirations, you must first ask yourself questions. So here is what you need to clarify if you want to become aware of your Ikigai. There are 4 essential questions to be solved …
1. What do you love, what is your passion?
This is a fundamental question to ask ourselves which can be the fundamental stimulus and the true "motivator" of our existence also and above all in the modern world when we are often led instead to focus on the too rapid satisfaction of often entirely material desires. So ask yourself: what do I really like? What would I do if I didn't have the problem of having to earn and could really follow my heart in complete freedom?
Recommended: 10 Unique Characteristics of People who Transmit Positive Energy
2. What are you good at?
This could be the key question to bring out one's vocation. For many, the answer may be the same as the first question but for many, it is not. It is a more practical and less emotional issue, because we all know, at least in part, what we are brought for. Passion and talent do not always coincide: for example, we may want to be an actor because maybe this is our passion but we are driven to be an organizer of shows because it is what we do best. This is our calling.
3. What does the world want from you?
This is probably the most difficult question. In essence, it is a matter of understanding what the true mission or task we have on earth is. That something useful not only for ourselves to evolve but that will also help others and the planet itself to become a better place.
Recommended: Discovering the Meaning of Life is the Secret of Well-Being and Longevity
4. What can you get a living with? What is your profession?
The last question is the most practical and also quite simple because everyone (or almost) at some point in their lives had to work in order to get the money they needed to live.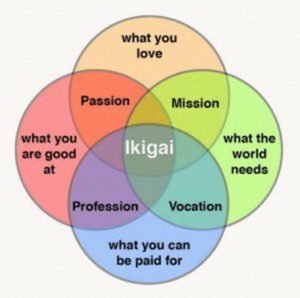 Of course, the answers to these questions may overlap but they can also be very different. It is necessary to find a balance between all things even if it is not always easy, for example, to follow your passion and at the same time get money with something you are really good at. Also following one's mission but not being able to contribute to the expenses of one's family or on the contrary having a lot of money but feeling dissatisfied as regards passions and aspirations are roads that do not work and do not lead to reaching the IKIGAI.
You may also be interested in:
Forest Psychological Test: Discover Your Desires and Hidden Thoughts
Who are the Planetary Angels and which Archangel protects your Zodiac sign?
6 Characteristics Of The Earth Angels, Number 3 Is The Most Obvious
Help Namastest raise the vibrations and share this article with your family and friends!