Discover Your Strengths by Choosing a Flower You Like Most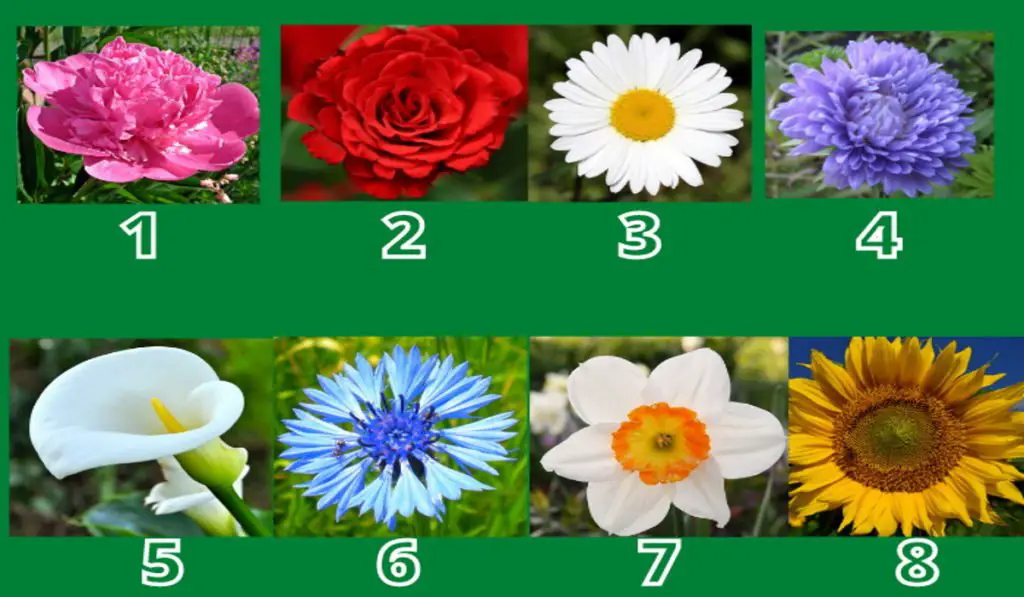 Often we are unaware of our hidden talents and personality traits. But you can fix that if you learn about your strengths. The picture test below will help you understand this issue.
So, take a close look at the pictures of flowers and choose the one that you like the most. And then read the transcript of the test.
1. Peony
You are made for tender love. You like to swim in the passionate caresses and arms of your partner. But often you deny yourself this for one simple reason. You are looking for the perfect partner, and as a rule, there are no such people. Your strong point of the character is attractiveness.
Learn to sometimes accept people as they are, regardless of their flaws.
2. Rose
You are a confident person. You know exactly what you want and what ways to come to it. With external refinement and gentleness, you know how to stand your ground, defending your interests. Sometimes you are overconfident, which leads to disastrous results.
Learn to realistically assess the situation and do not overestimate your strength. Sometimes they may not be enough to bring what was started to the victorious end.
3. Chamomile
You are a fickle person, constantly on the lookout. You are lighthearted and lead a vibrant, diverse life. You have many friends, people like to communicate with you. You are not vindictive and quick-witted. But, at the same time, they are very vulnerable.
Learn to discipline yourself. Sometimes it is helpful to organize your life by planning it out at least a few days in advance.
4. Astra
You are an incorrigible dreamer and dreamer. People don't understand your romantic outlook on life. Many people think that you are often in the clouds. Do not pay any attention to them, just many have forgotten how to see the beauty of this world in everyday trifles, and you do not.
Do not be offended by those who do not share your outlook on life. Learn to forgive bullies and let go of the situation without getting stuck in it for a long time.
Recommended: Choose a Mandala and Find Out if You Have the Gift of Empathy
5. Calla
You are a responsible and serious person. You can be relied on in any difficult situation. You are a good analyst and psychologist. You will unravel any difficult question with your own conclusions. By weighing the pros and cons, you will always find the right solution to a problem.
The only thing that can interfere with you is a feeling of excessive anxiety and anxiety. Be more confident in yourself, and you will reach incredible heights in life.
6. Cornflower
You are a kind and open person. People often consult with you, knowing that they will receive correct and truthful advice. You do not know how to deceive and this is your strength. After all, liars, as a rule, are always pierced by their lies. The opinion of others is very important to you.
Constant support from loved ones is important to you. Learn to live more independently without shifting responsibility to other people.
7. Narcissus
You are a lucky person because you always have a positive outlook on life. You do not like to complain about your problems, knowing that it is not a productive activity. An optimistic mindset helps you cope with the most difficult situations.
Continue to live by your own rules, not succumbing to the influence of others and the negativity of the world around you.
8. Sunflower
You are a patient and diligent person. Many people envy you, not realizing that they have achieved a good life thanks to hard work and patience. Not every person is able to endure difficulties for so long and go towards their goal.
You need to sometimes allow yourself to relax and be yourself. Do not consider this a weakness. Anyone needs rest.
---
For those who want to participate in other tests, we suggest: ↓
Pick an Autumn Leaf and Find Out How It Defines Your Personality
Fatima's Hand Can Reveal Your Character and the Main Challenge of Life
Discover Traits of Your Personality That You Did Not Know About by Choosing a Mirror
Help Namastest raise the vibrations and share this article with your family and friends!