Which Tree Would You Plant in Your Garden? Choose One and Find Out Something For Yourself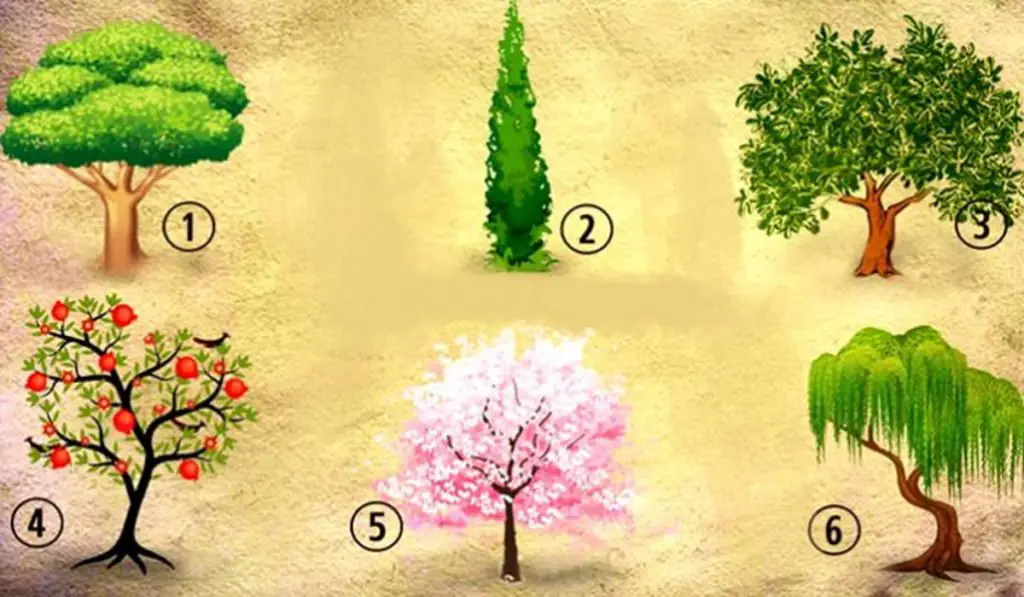 Imagine having to plant a tree in your dream garden. Your choice is closely related to your personality. To find out more about yourself, just look at the picture and choose the tree that will first attract your attention.
If you have chosen:
TREE # 1
If you decide to plant cedar, the size and width of its prominent branches symbolize your majesty and spirituality. You have a great desire to give in your heart, but you don't find the courage to do something because you are very shy.
TREE # 2
This tree symbolizes immortality. Even if you are a strong person, sometimes you are looking for confidence that you will embrace yourself.
Recommended: Who is The Younger Brother? Find Out What Your Personality Type Is
TREE # 3
Figs are a tree of wisdom. Its sweetness symbolizes the knowledge that sweetens life and undoubtedly seeks wealth, but not materially, but inexperience.
TREE # 4.
The pomegranate symbolizes abundance, love, and health. The delicious cereals inside can be associated with the beauty of communion. If this is the tree you have chosen for your garden, it can mean that you don't want to be alone and that you want company, noise, fun, and joy. Friendship is precious to you.
Recommended: This Crystal Test Will Reveal The Gift You Were Born With
TREE # 5
The almond tree hides the secret of the rebirth and renewal of nature because it is the first tree to bloom in spring. If you have chosen this tree, its meaning is linked to its fruit, it is a secret that is revealed by breaking the armor. Your personality has multiple levels and you can often show different faces, but deep down you hide the secret of your true identity that you rarely discover.
TREE# 6
This tree represents reflective spirituality precisely because of its incredible elegance. If you have chosen this tree, it means that you love art, that you are an elegant person and that aesthetics prevails over all your other ambitions.
---
If you liked this TEST, leave a comment and share it with your friends!
For those who want to participate in other tests, we suggest: ↓
This Colour Test Will Determine What Kind Of Partner You Are
Which Cup Do You Choose? It Will Reveal Something Extraordinary About You
Which Moon Do You Choose? It Will Reveal Something Hidden From Your Personality