What is Your Personality Type? Scientists Have Identified 4 Types of People in Which We All Group
It is a new study published in the journal Nature Human Behavior and conducted by researchers from the Northwestern University of Illinois who have revolutionized modern psychology, which largely rejects the notion that people can be classified into personality types.
"People have tried to classify personality types since the time of Hippocrates, but previous scientific literature has found that it doesn't make sense," said co-author William Revelle, an initially skeptical psychology professor."
But it seems that, with data in hand, psychologists are now able to show that there are more or less high densities of some personality types.
For these new analyzes, scholars analyzed the answers provided by about 1.5 million people around the world to four different personality questionnaires available online: the IPIP-NEO (in two versions, one for 120 and the other for 300 questions), the myPersonality project and the BBC Big Personality Test.
The tests evaluated each person on five well-established personality traits, the so-called Big Five: neuroticism (or "emotional stability"), extroversion, openness to experience (or openness of mind), friendliness and conscientiousness. Later, doctoral student Martin Gerlach who conducted the research, and his team wanted to check whether people tended to cluster around similar levels of shared personality traits, finding at least four clusters.
Recommended:  Discover Your Most Hidden Personal Strength With this Image
The new four types of personality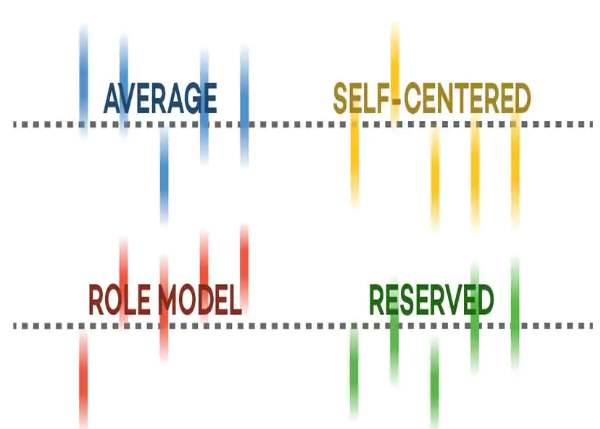 Medium / common, reserved, self-centered and role model: here are the four types of personalities, which over time can also be changed, identified by a new study. Based on the data obtained from some questionnaires compiled by over one and a half million people, some American psychologists have in fact managed to distinguish new and precise types of personalities in which people tend to gather.
Medium: it is the category in which most people fall, especially women, and is characterized by having high scores of neuroticism and extroversion, but low in openness
Reserved: an emotionally stable subject, not open – that is, not particularly outgoing – nor neurotic. It is also a rather friendly and conscientious trait
Role model: it seems to be a category in which it is more and more likely to fall as age increases and if you are a woman. It is characterized by low scores in neuroticism and high in all other traits.
Self-centered: he is a subject with very high scores in extroversion, but below average in terms of openness, friendliness, and conscientiousness. It is a type of personality that statistically tends to decrease among people over the years.
Recommended: Are You A Wolf, Bear, or Lion Type of Personality?
To verify the reliability of these new aggregations of phonological traits, American scholars have considered a group of male adolescents, notoriously a category of self-centered subjects. Indeed, the data show that young males are highly represented in the self-centered group, while girls over 15 years of age are very few.
What is the use of knowing these 4 personalities? Probably to the operators of mental health centers, as well as in the field of personnel selection and in particular for the choice of managers. But you, in which of the 4 personalities do you recognize yourself?
For those who want to participate in other tests, we suggest: ↓
What Does Your Birth Date Say About Your Personality?
Choose One of the Cards and Receive Your Heavenly Message About Your Present and Future
Wake Up Your Intuition, Select a Mandala Card and Discover the Strong Points of Your Character