Choose Your Favorite Color And We Will Tell The Most Accurate Details About Your Personality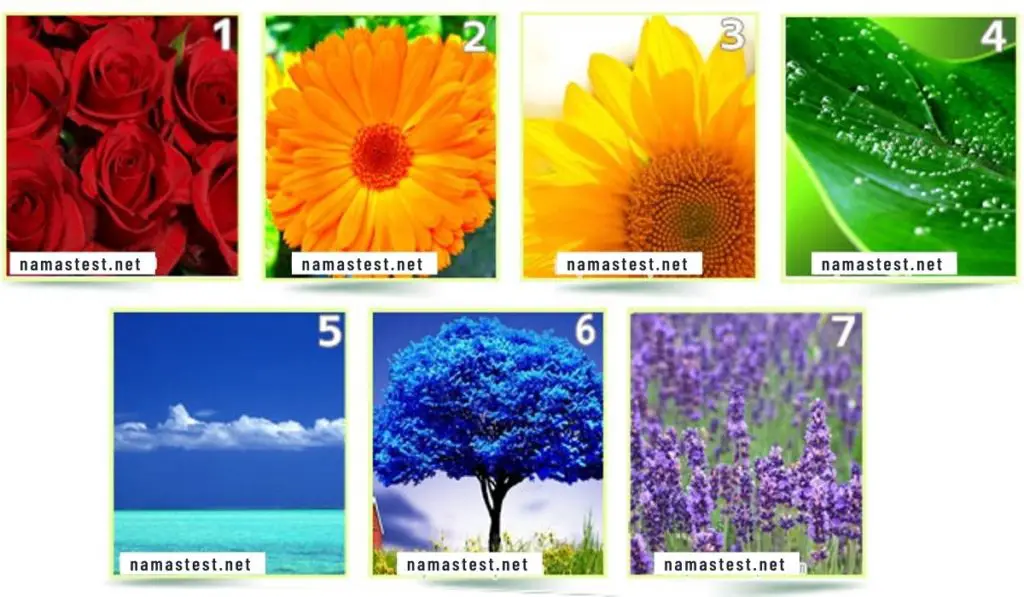 Colors are part of our daily life, but we always see ourselves more identified with one color than with another.
Growing up, we all had a favorite color which we used to keep in mind while choosing the shades of the walls or even the clothes in our wardrobe.
While eventually, we all kind of grew out of the 'dressing in my favorite color phase', it won't be wrong to say that we all have a specific color which we choose above others.
What if we told you that this instinctive decision of choosing your favorite color says a lot about your personality?
Yes, your favorite color can speak volumes about how you view the world, how you operate, and even how others perceive you. If you don't believe us, we suggest choosing the color you like or prefer the most from the list below and read the description that follows.
Look carefully at the picture, quickly choose the color you like the most. Find its meaning below.
1.- Red
Your main characteristics are your sincerity and your extremely direct attitude to express what you feel. You are a person who likes to attract attention and never go unnoticed.
Another of your characteristics is to be enthusiastic and always be ready for new adventures and experiences. You are innovative and an explorer by nature.
In addition to this, you have a natural vocation as a leader, which, managed in the appropriate way, will help you achieve great things in your life.
2.- Orange
You characterize yourself as a fun and pleasant person with a giant heart that makes you very emotional and sensitive to life.
You have a great sense of fairness and justice, so you enjoy those jobs in which you can help others, but you could also become depressed due to situations that you cannot change and that is precisely where your great challenge lies: remember that If you want to contribute to the construction of a better world, it is very important that first of all, you are well.
Recommended: Find Out What Type Of Flower You Are and New Traits Of Your Personality
3.- Yellow
You are characterized by being an investigative and intelligent person (not necessarily studious) who can get bored easily if they do not find interesting conversations or possibilities to develop their full potential.
They are prone to working late, since they have the most developed creative part of their brain, which makes their mind stay active and generating ideas, even at night. You can be very funny and sharp, but at the same time satirical and ironic, and that's exactly where your main challenge is: learning to accept and tolerate other people, even if they don't think like you.
4.- Green
You characterize yourself as a person who needs to mark limits between what he considers his personal space and the place where others can go, and although you enjoy the company of other people, you can feel overwhelmed when they exceed your limits.
You are an organized person, who likes to take time to organize your projects and ideas. Your main challenge is to understand that a good job does not necessarily depend on the amount of time you invest in it and that if you put your mind to it, you could create a great balance where your work life does not take time away from what your personal life should be. 
5.- Blue
You characterize yourself as being a person with a lot of imagination and a great ability for communication. These characteristics make you very good at narrating or writing stories and expressing and defending your own or other people's ideas.
You believe a lot in the word and for this reason, you are disappointed by the lie and you immediately lose all confidence in someone who cheats you.
One of your main challenges is to establish healthy limits for your need to communicate since it is not necessary that you always say everything you know, especially if what you know maybe annoying for some or even get yourself in trouble.
Recommended: Psychological Test Of Color Blue Reflects Hidden Aspect Of Your Character
6.- Indigo
You are an optimistic, reserved, sensitive, and interesting person with a highly developed sixth sense, so generally, your first impressions are always correct.
You are characterized by your position of getting absolutely involved in something (projects, jobs, tasks, relationships) or staying completely outside, and that is precisely where your great challenge lies, developing perseverance because although you do get completely involved in many activities.
You usually lose interest in them after a short time and leave them abandoned. Remember that your great triumphs are the result of dedication and constant work done with love.
7.- Violet
You are a dreamy, inspired, and creative person – your mind is an inexhaustible factory of great ideas. It is very likely that many people admire your style and that you are very good at careers in fashion, design, or the arts.
For you, it is very important to be able to unleash your imagination and for this reason, you get frustrated very easily in jobs and activities that do not satisfy your creative desires.
It is likely that others do not see the world the same as you, but those differences should not cause problems, and that is precisely where your great challenge lies: learning to accept differences and feel good with others.
---
For those who want to participate in other tests, we suggest: ↓
Discover What is Your Best Skill by Choosing a Bag of Flowers
Your Favorite Fairy Tale Character Reveals Special Traits About You
Help Namastest raise the vibrations and share this article with your family and friends!