Are You Open to Relationships or Are You a Lone Wolf? Discover the Deepest Part of You With this Triangle Test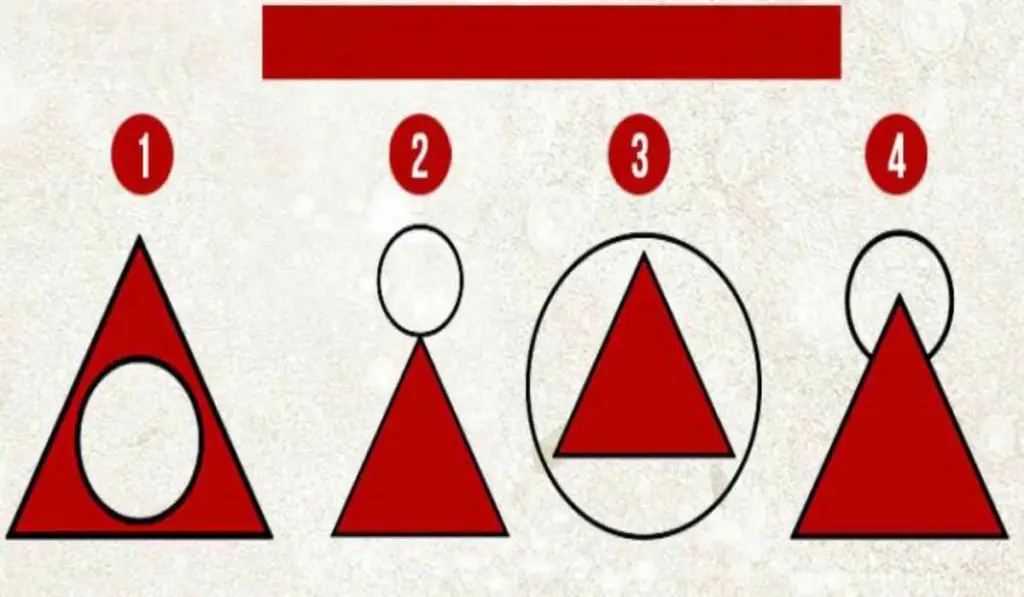 How to find out how others see us? The psychological test that we are proposing to you now can simply reveal it to you, it will be enough for you to choose among the geometric figures proposed the one that most attracts you. You will be amazed by the result!
How much do we conceal in our subconscious? Certainly much more than what emerges to our conscious mind.
Psychologists or psychiatrists and all those who study the mind know this well.
 
Often for defense or avoidance mechanisms, we implement behaviors that we do not know how to explain.
Here a simple test even if it will not solve our problems because for that there are competent specialists, it can give us no answers to our curiosities.
Which triangle design do you prefer?
Figure 1
The first figure suggests that you are a very sociable person. You love to surround yourself with people but also care about the fact that these relationships become important. Always try to please family and friends who therefore consider you a fundamental element of their life.
Figure 2
If you have chosen figure 2 you are a very rational person and you do not open easily. Not because you are ineffective, as someone has sometimes accused you of being, but because perhaps because of suffering you are now struggling to trust and analyze every relationship in a surgical way. Find spontaneity.
Recommended: Is your Observation Ability High? You Have 3 Seconds to Tell Us What You Saw
Figure 3 
If you have chosen the third design, you love being at the center of the attention of the people around you. You are a very emotional person and you feel lost when someone gets away from you.
You would always like to manage relationships but sometimes you have to understand that it is necessary to take steps backward to leave room for the other.
Figure 4 
If you have chosen the number 4 design, your personality is swinging.
You do not yet have a clear idea of ​​the type of relationship you would like and also with relatives and you have mood ups and downs. You are very independent and you love freedom therefore all relationships with others must leave you free to live your experiences, only in this way do you really tie yourself to someone.
---
If you liked the test, continue to follow us to discover other curiosities about your way of life!
For those who want to participate in other tests, we suggest: ↓
What is the First Thing You Saw? Find out What's Going on in Your Inner Subconscious
This Psychological Test Reveals Which Method is Suitable for you to Discharge Negativity
How You Eat Pizza Reveals Your Social Disorder: Discover Your Psychological Profile With This Test