Your Weekly Horoscope: April 11 to April 17, 2021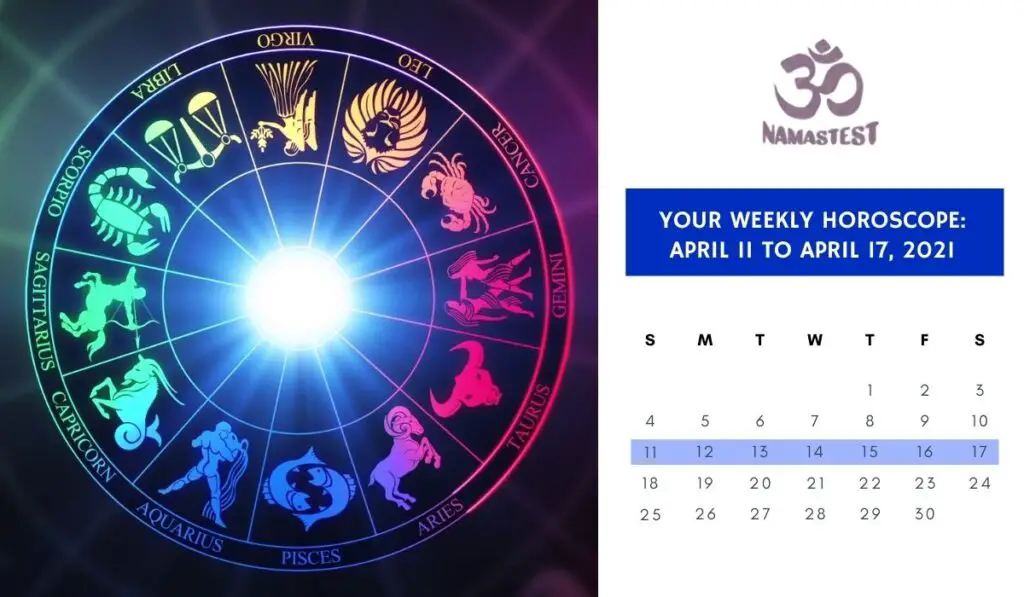 This is what the planetary movement of the week will bring us:
😞 April 11-20: Square Venus-Pluto generally involves difficulties such as the loss or death of a loved one, and the obstacles of rejection, slavery, and general oppression with respect to those aspects of life to which we are undeniably attached and appreciate.
If something of this nature is happening for you right now, it is best to recognize that love will triumph in all dimensions despite the pain of separation or illness and the struggles of the loved one.
April 11:  New Moon in Aries this is a good time to start over, not only because the Moon has reached the new sign and our moods are oriented in this way, but especially because the Aries Moon invokes the powers of initiation and novelty as an essential part of life. regenerative force. This is a time to generate and promote inspiration and happiness.
💫 April 14 to May 9: Venus enters Taurus. Venus is at home nurturing our sense of sensual pleasure and enhancing our appreciation for the peak performance of this beautiful Spring / Fall season. Venus in Taurus brings out aesthetic awareness, as well as a greater emphasis on love of goodies, prosperity, and wealth.
Venus designs and attracts, and Taurus represents the acquisition and containment of the material. Now is the time to acquire, polish, clean and beautify the things that give us the feeling of really having something.
😍 April 17 to May 2: Trine Mars – Jupiter. It may be time to act on opportunities as they arise and to set your visions and dreams into a workable plan that has the potential for favorable action to occur. Trine Mars – Jupiter affects the actions that take place around us in a favorable and talented way, concerned with the expansion of our livelihood and our consciousness. Mars activates and stirs up the action as Jupiter represents not only our sense of the economy and how to move forward but also our sense of visionary and philosophical awareness, allowing us to realize new talents and means of probability, the intake of wealth, and well-being.
April 17-21: Sextile Mercury – Jupiter: it is a more favorable aspect that brings the potential of receiving the good news of expansion and prosperity to those who are open to broadening their consciousness. Mercury brings news while Jupiter brings wealth and prosperity.
This is an especially good time to openly seek opportunities when sharing information and promoting yourself and your actions.
April 17-21:  Sextile Mercury-Mars presents opportunities that can be received, recognized, communicated, and acted upon. Clear communications about the actions that are being taken can make this a great time to seek employment.
People are likely to back their statements with action during this period and it would be a good time to apply diplomacy.
😞 April 17 to 23: Square Mercury-Pluto brings obstacles regarding communication to those of other generations. This is a particularly intricate time to deal fairly with difficult issues and discuss them in a way that rather eases difficulties.
The effects of Mercury square Pluto focus our attention on the obstacles and difficulties of communication on questions of power and the great dangers that our own concept of threat represents. It is especially important to be aware of what we choose to say or think about powers that seem greater than ourselves.
♈ Aries
Any lack of motivation could be a sign that you need a change or a new experience and the New Moon on April 11 should help you create the new beginning that your soul yearns for. Pick an area of ​​your life that you feel stuck or need a change and see if you can give it new life.
If this doesn't seem possible, then it might be time to take a break and try something new. Look at your future hopes and dreams and decide what is worth keeping and what needs to change. To do this, you may need to take risks and think less about safety and more about fulfillment.
♉️Taurus
With a New Moon in your soul house on April 11, your intuition or inner knowing will be particularly strong this week. Act on your instincts and let logic take a backseat.
Sometimes the heart knows the answer, while the head may try to override what it doesn't understand. That said, consider the thoughts and compulsive actions, because squaring Pluto with Venus suggests a possible slide into darker waters.
If you try to determine the difference between your intuition and your needs and cravings do that, the Next week you will see that you can move to higher frequencies.
♊️ Gemini
The New Moon on April 11 is auspicious, suggesting that your dreams may come true. You just have to take a step in the right direction. With Mars still strong in your sign, you should have no shortage of motivation as long as you focus on what interests you.
The keyword here is "passion." Follow what you are passionate about and everything will be fine. Whether your dreams are big or small, whether you have a big project to tackle or a little effort to accomplish, this is truly the week to make the most of it.
♋️Cancer
With a New Moon on April 11 and a cluster of planets in your zone of success, this is the perfect week to start or move forward with a project or ambition or to discover more about your true purpose in life and take a step towards him.
It's time to put the past behind you and focus more on where you want to go. Starting from scratch is the way to go in your professional life or general direction; however, your relationships may require a transformative approach. Either way, continuing things as they are is unlikely to work, so be willing to accept whatever changes you feel energizing.
Recommended: 2021 Horoscope For Each Zodiac Sign: Time To Be Hopeful Again
♌️Leo
Something is calling you to be bold and step out of the previous confines of safe structures. Perhaps the answer to a problem lies in finding the courage to do what you fear. Ironically, once you face it, your fear will likely disintegrate before your eyes.
Whether it's an opportunity you have to say yes to or something else that pulls you into new territory, remind yourself that the New Moon on April 11 is blessed by Venus and ensures that your courage will be amply rewarded.
♍ Virgo
Certain reptiles, such as the lizard, tear off their tails when attacked by predators so they can escape. Surprisingly, the lizard then grows a new tail. The lizard is unlikely to give this process much thought or wonder if a body part is worth sacrificing to live. In a similar way, we could say that if you want to free yourself from a difficult or painful situation, you may have to put something aside. Whether it's a situation, emotional baggage, a habit, or physical possessions, you will now benefit from releasing negative attachments and ripping off your old skin.
♎️Libra
This could be a dramatic week. With a New Moon and a group of planets in your relationship zone, the time has come for new beginnings in love and cooperation. But keep in mind that as Pluto squares Venus, it may be difficult to control your deep feelings.
This could result in compulsive behavior, powerful desires, or darker states, such as jealousy, revenge, and betrayal. Try to determine if the roots of such insecurities are in the past because genuine love seeks to give rather than possess. This could be the time to start over in an important relationship or start a new one; now some kind of transformation is required.
♏️ Scorpio
The planets are gathering in your work and health zone, so this is the perfect week to start over in any of these areas. Healing a particular condition or ailment is more viable now, as is finding greater happiness at work or in everyday life.
Try to adopt a more positive mindset, realizing that things don't have to continue as they have been and that your daily routines are the key to your success. Since the secret of your future may be hidden in your daily routine, make sure your habits work and that they work against you.
Recommended: Here Are The Major Astrological Events Of 2021 You Should Know About
♐️Sagittarius
The theme of creativity continues like a new moon in the play area of ​​your letter on April 11 inviting you to consider what a game feels like to you. So, go ahead and do it without attaching any targets. In fact, pushing yourself or setting goals is counterproductive, as that can take a lot of the fun and spontaneity away from you.
It's more about being in the moment and you can take this idea and apply it to the larger aspects of your life. How present are you in the things you do? Can you stop thinking about the next thing on your to-do list and just be where you are? If you can do this, you will identify with the words of more than one prophet: "The only reason to be alive is to enjoy it." So be it!
♑️Capricorn
With a New Moon in your home zone on April 11, this is the perfect week to make a fresh start in your home and family life, perhaps with a spring cleaning to freshen up your space. Repairing damaged relationships with family members can be successful now too, and healing the dynamics of the past should be your primary focus.
Closing a door to what has been could be helpful, particularly if you've felt stuck and unable to move forward. A new beginning is advisable, if possible, but at the very least, keep your attention on the new and away from what has been.
♒️Aquarius
This week is all about seeing and communicating and therefore it should be quite an interesting and active week. With your underlying communication theme, do you have any insights or ideas to share with others? Do you need to listen or have a conversation with someone?
None of this has to be deep and heavy. Conversely, simply exchanging courtesies with neighbors or people you come in contact with during your day can lift spirits, but if you have a message you'd like to convey, now is the time to express it.
♓️Pisces
A New Moon in your money zone on April 11 makes this the ideal week to submit a new sheet with financial and material matters and you can start by adopting a more proactive attitude in this area. For example, it might be time to move from doing things out of obligation to doing what you love.
Explore your talents and heal any limiting beliefs about not being good enough. You don't have to be the "best," but think about using what talents you have to achieve your goal.
Recommended: Native American Horoscope: These 3 Signs Will Be Most Successful In 2021