Your Weekly Horoscope: April 04 to April 10, 2021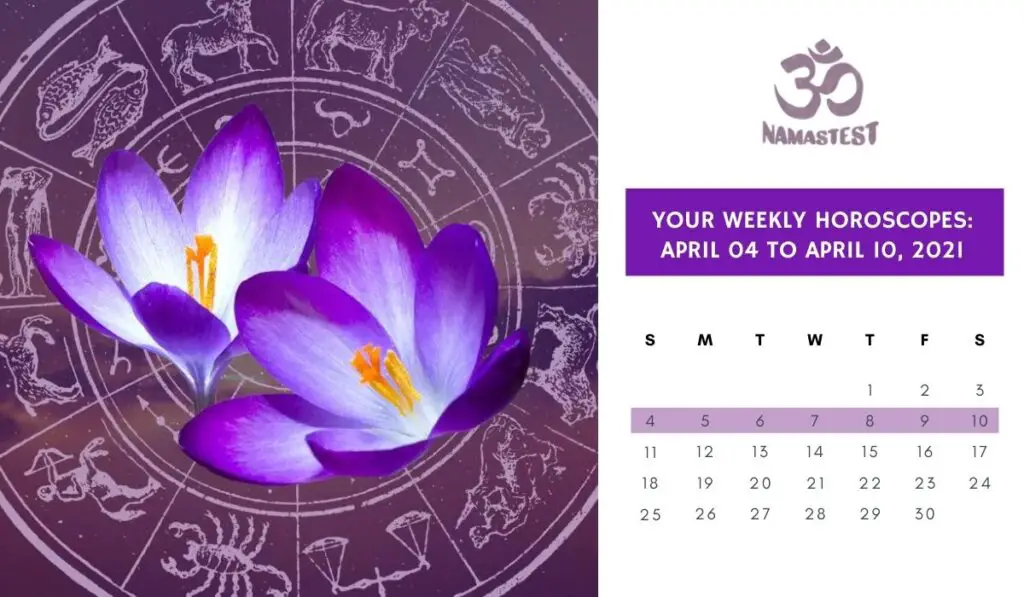 This is what the planetary movement of the week will bring us:
🌛 April 4: First quarter moon in Capricorn:  emphasizing the need to take control, as well as to let go where it is necessary.
The Moon in Capricorn connects our moods with a serious tone of need and desire to take our goals and summon results. Capricorn ruled by Saturn emphasizes time and punctuality of important events. This may be a time to address the importance of outstanding deadlines.
Is it time to proceed or is it time to let it go? Certain missions in life may not be meeting personal needs. Is something lacking in substance taking up too much time in your life?
Life is so serious with the Moon in Capricorn and in its waning state of the last trimester it reminds us that to have control we must let go of what we cannot control.
👍 April 6 to 19: Sextile Venus-Mars is a favorable aspect and brings opportunities to situations related to love and beauty.
Venus emphasizes the vibrations of love, magnetism, beauty, and sensuality. The influence of Mars emphasizes awareness and application of action, movement, participation, and also takes advantage of force and energy focuses. Venus reminds us that we approach the pleasures we desire and Mars reminds us that we apply action with love.
👍April 9 to May 10:  Square Mars – Neptunebrings the potential for confrontations on moral issues or spiritual beliefs.
 This aspect also brings the potential for accidents and temper tantrums, especially in spiritual gatherings. As this aspect passes, it will be easier to get spiritual beliefs and practices back on track without much conflict or interference.
👍 April 10 to 16:  Sextile Mercury – Saturnit's a great time to do some serious research and to learn vital lessons about limits and responsibilities.
This aspect emphasizes favorable news and communications regarding the ban and timely completion issues. This tends to be a time when struggles and difficulties are frequently discussed and many people collectively draw conclusions about the best way to handle their problems or responsibilities.
👍 April 10 to 17:  Sextile Venus – Jupiter: This aspect brings the affairs of love and attraction to a favorable opportunity to allow advancement to more prosperous realms.
This serves as a great time to fill loved ones with gifts and compliments. This is the time to allow expansion to occur in love matters and take the next step towards the improvement and success of a love relationship. There is also a greater opportunity available to advance at work or to increase skills or improve livelihoods, especially if we focus on doing what is loved.
Recommended: 2021 Horoscope For Each Zodiac Sign: Time To Be Hopeful Again
♈ Aries
As the Sun and Venus align in your sign, it will be easier to focus on pleasures, enjoyment, beauty, and a more relaxed pace of life.
This is a sensual combination that encourages you to take pleasure in the simple things in life, like slowing down to appreciate what's around you or making space and time to bring in a particular ritual that feels calming, nourishing, or filling. Lighting a candle with your dinner, for example, can help you focus on the joy of eating and your gratitude for the food on the table.
Eliminating unflattering or gloomy items in your closet could start a new you. Keep in mind this week the following principle: "If you don't love something or don't use it or if something doesn't bring you joy, let it go."
♉️Taurus
Life can feel uncertain and with Uranus in your sign, you probably need to keep reminding yourself that fortune favors the brave.
It will be increasingly difficult and perhaps foolhardy to put your trust in physical things like work, money, property, etc. because these things can be transitory and keep you trapped.
Your goal now should be to break free of any shackles and explore new territories, but you have no need to rush or panic, particularly when you will benefit from adopting a more contemplative mindset. Listening to the calm voice of your intuition will guide you to the right path.
♊️ Gemini
The planets are aligning in a very fortunate way for you. Mars is in your sign, giving us energy and motivation to get things done and the Sun and Venus align in your zone of hopes and dreams.
This suggests that the future is bright and you can manifest your wishes and wishes much more easily than usual. Keep in mind that you may need a friend or other helpful person to help you with your sleep.
This is certainly a week to remind yourself that no man is an island and you can benefit greatly from interacting with others and accepting their offers of help.
Recommended: For Which Zodiac Signs 2021 Will Be A Happy Year?
♋️Cancer
Bob Dylan said, "A man is successful if he gets up in the morning and goes to bed at night, and in between, he does what he wants to do. What do you want to do?
This is not necessarily limited to career and vocational options; it is also about your general direction and life purpose.
The purpose may be more than your profession and with a Venus-Sun-Chiron alignment in your region of success, this is the time to heal the wounds you could have on achieving success in the world. It's also about being who you really are and allowing the world to see that.
Enjoyment is perhaps the pointer, so if you are not currently doing what you enjoy or if there is room for improvement, this is the perfect week to give yourself permission to do what brings you the most joy.
♌️Leo
Adventure is your keyword, but it's not just about traveling to new places in the physical sense.
You can also adopt a more adventurous state of mind in which you entertain new ideas, beliefs, or ways of seeing the world.
Changing your perspective on something could be the way to go now, so if you can't change something that is limiting or holding you back, try looking at it in a new way. This could be a time of real opportunity and expansion, but to be successful, you may need to be a little more experimental.
♍ Virgo
Most of us don't like to feel vulnerable, but only by opening up and showing our softer side can we reach out to others and form deeper bonds.
If you want to delve into a particular relationship or experience more sharing and intimacy with others, this week will make the process easier.
This could be a great time to reveal your feelings or ask for help. Whether you are taking out a loan, taking a risk with your feelings, or admitting a weakness, the more you can communicate with others, the closer they will get to you. This could be a deeply meaningful and pleasantly surprising week if you are willing to open up.
Recommended: What a Woman's Birth Month Says About Her Personality
♎️Libra
Relationships take center stage, and for a while at least, things could get pleasantly intoxicated.
This is a good week to express your affections and communicate your feelings, have a difficult conversation, work to heal your differences, heal a wound, or build bridges.
With Venus involved, the path of love can likely run more smoothly than it has recently, particularly if you are prepared to put in the effort. It certainly seems like other people are the key to your happiness right now, and the equation is simple enough: "If you want to be loved, be adorable."
♏️ Scorpio
The path to brilliant health and happiness at work becomes much easier now, and the key to both areas is love. Instead of repressing or punishing yourself, depriving yourself, or focusing on your physical weaknesses, try directing love to your body.
Praise for the wonderful job you do, and imagine the even better job you could do if you don't sabotage it. The same applies to your work and your daily life in general.
The more love you put into your daily tasks or the service you provide to others, the happier you will be.
Spend a moment or two contemplating how love is central to healing – an attentive doctor or therapist, a kind word from a friend – and that when you love what you do, the quality of your service affects the well-being of others.
♐️Sagittarius
With a group of planets in your zone of fun and enjoyment, this is the time to focus on where you find joy and delight.
Simple pleasures can be the order of the day, like baking a cake, painting a picture, or playing with your kids.
Aim for a more carefree spirit. When you care a little less about the rules, regulations, and complexities of life and just follow your heart a little more, you'll be on the right track.
If you can't find what you're looking for, find it yourself.
Recommended: At What Age Will Your Soul Mate Appear According To Your Zodiac Sign
♑️Capricorn
It could be argued that many of the world's problems, as well as personal unhappiness, stem from a lack of love and the fracturing of the family unit in particular.
As the Sun aligns itself with the beautiful Venus in your home zone, you will likely find that what you are looking for is very close to home.
This is the time to nurture yourself and those you care about. Make your home a haven of love and food so that everyone who lives there or enters that space will feel so nurtured, peaceful, and loved that they never want to leave.
♒️Aquarius
This is likely to be an important and possibly crucial moment in your life, but whether you see it as positive will depend on how you view your situation.
Problems can be challenges to strengthening your character, and events that might seem out of your hands can, in the long run, be initiations to a more fulfilling life.
This is a time to reaffirm your life, take on greater responsibility, embrace new opportunities, and make sure your attitude works for you and not against you.
♓️Pisces
There is a school of thought that says you get what you deserve or what you feel you deserve. If you grew up being abused, then unless you change the schedule, you are still expecting bad treatment.
Likewise, if they treated you well, you keep expecting good things. Most of us are a mixed bag in terms of how we were treated when we were young. Therefore, we tend to get mixed results.
If you've been unhappy with your luck and think you deserve better, this is a good week to make your case. Negotiating could be the way to be successful, and if you really believe that you deserve what you are asking for, chances are you will.
Recommended: Here Are The Major Astrological Events Of 2021 You Should Know About