Your True Identity Reflected in the Moon of Your Choice – Which Moon Do You Choose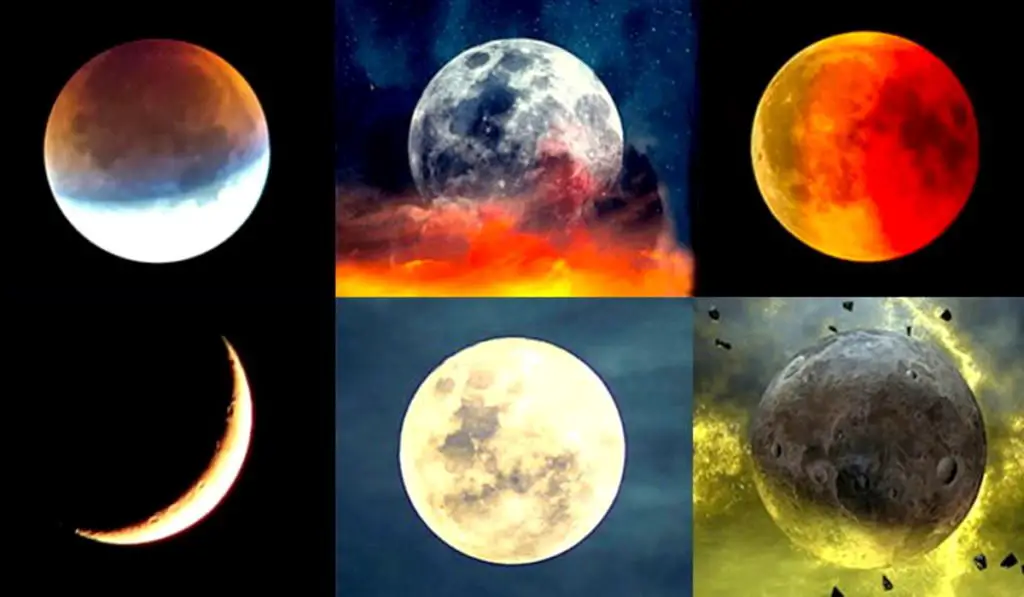 The moon is truly a quiet gift from God (or whatever deity of your choosing) for all the people on Earth. It sits nobly in space, circling our planet, giving a sliver of light and hope to the parts of our world bathed in darkness. The moon also has much scientific significance, in vast and minute contexts.
The moon affects everything from the ebb and flow of the ocean's tides to the production of melatonin in our bodies and our corresponding sleep cycles. It can also be extremely aesthetically pleasing from many different viewpoints. The vision of the moon that most strikes you may actually be a lot more indicative of your personality traits than you realized. 
The moon is a mystical, mysterious, and extremely powerful force in our world. This silent and humble force has been shown to influence us, but your visual choice of the Moon can reveal your true personality.
Can it show you what your subconscious wants to tell you to change for the better? 
Take a careful look at these six pictures of our gorgeous moon in all her glory and select the picture you enjoy most. Then scroll down to see the personality types and characteristics that your selection indicates you fall under.
Moon no. 1 You are compassionate
Your sensitivity to worldly difficulties makes you an extremely kind, generous, and loved member of society. You have a desire to meet the needs of others you see. 
You may barely have enough for yourself for this week, but if you see someone hungry, you will sacrifice your meal so that the other person isn't hungry. 
Your selflessness in life is the most important trait people use to describe you. What you may not know is that you have your own wants, needs, feelings, talents, and life in general. 
 You can become so hyper-focused on others that you lose who you are, failing to feed your life to thrive – and you may even become addicted to living through those you help. Take some time for yourself and remember your unique values, explore and harness your talents, and build your own feel-good environment.
Moon no. 2 You are creative
Your environment is highly ingrained aesthetically and emotionally. The insightful, kind, and emotional side makes you very aware. However, your sensuality leads you towards materialistic endeavors. 
Your life is probably made up of waves of pleasure and selflessness towards others. What you may be ignoring is that excesses in life could keep you away from your full potential. 
Do you spend long hours playing, overeating, or indulging in pleasures? All excesses can easily steal energy, productivity, and creative juices. Dim your natural glow and stifle time management.
Try to be moderate and reduce the intensity so that you have energy reserves for the things that are important to you in the long run, instead of just exercising instant gratification.
Moon no. 3 You are energetic
You have a will to live and a strong character. Your temperament also makes you a calm, reliable worker and friend. Your energy is focused on maintaining your well-being and the well-being of your loved ones.
You want to make sure everyone has everything they need. There is a strong sense of loyalty when it comes to choosing the people you surround yourself with, and your relationships are never something you take lightly or for granted.
What you may ignore is that your strong sense of loyalty can make you very wary of the unknown. No risk, is there a reward? Your greatest inner fear is betrayal and this often involves a betrayal of your own senses.
Being wary can be emotionally and mentally exhausting, and you often don't even consciously realize how this constant state of caution affects your life, health, and happiness. Add peace to your life by believing that everyone is innocent until proven otherwise. 
Recommended: Choose One Of The Six Days Of Creation and it Will Reveals Your True Identity
Moon no. 4 You are a winner
Your life story is all about goals and achievements. Efficiency is your partner. You have a good deal of self-confidence that comes from your energetic and optimistic worldview. 
You prefer security and stability and are willing to work hard to create an environment where you feel you can thrive. What you may ignore is that you are often your own worst critic and your own personal execution team. 
Be kinder to yourself when you make a mistake. Perfection is an unattainable goal because it simply does not exist. Set your goal to be the best, not a foolproof fictional version of yourself that you will never achieve. 
Learn from your mistakes and allow mistakes to be another fuel you use for success.
Moon no. 5 You are calm.
The simple pleasures in life give you the greatest joy, which makes you a pleasant person. You are not necessary or demanding. You are perfectly content in a quiet and peaceful environment, like sitting on a sofa with a friend watching TV or strolling in the park. 
Tranquility, peace, and harmony are what surround you because you hate the frenzied chaos of the world, but you spend a lot of time thinking about the "what ifs" when it comes to the things you will do and see in the world.
What you may be ignoring is how "what if" is bad for your health, well-being, and productivity. You have a lot of unused skills that you don't use. This probably frustrates you; worries you and makes you think too much, doesn't it?
You spend all this time on what could reduce your incentives in terms of energy, efficiency, and productivity. Try to stay in the present moment. As the owner and captain of your life, what can you do here and now to become useful, happy, fulfilled, or enlightened?
Moon no. 6 You are curious
This strange world amazes your curious mind. Your mind is always asking questions and wandering, which has led you to become quite versed in a number of topics. 
In constant observation and research, you have probably become quite cultured. However, you can often wonder why you seem so emotionally unintelligent to others. 
While you can be friendly and can certainly talk to everyone about everything, you would probably physically prefer to be alone or with your closest loved ones. 
This is probably because you have acquired the feeling that those who don't know you well either don't understand you or are afraid of you.
---
For those who want to participate in other tests, we suggest: ↓
The Feather You Choose Will Tell You What Your Greatest Inner Power Is
Your Hidden Personality Traits Can Be Discovered Based On The Sun You Choose
The Size And Shape Of Your Forehead Can Reveal Interesting Things About Your Personality