What is Your Spiritual Destiny? Choose an Animal and Find Out!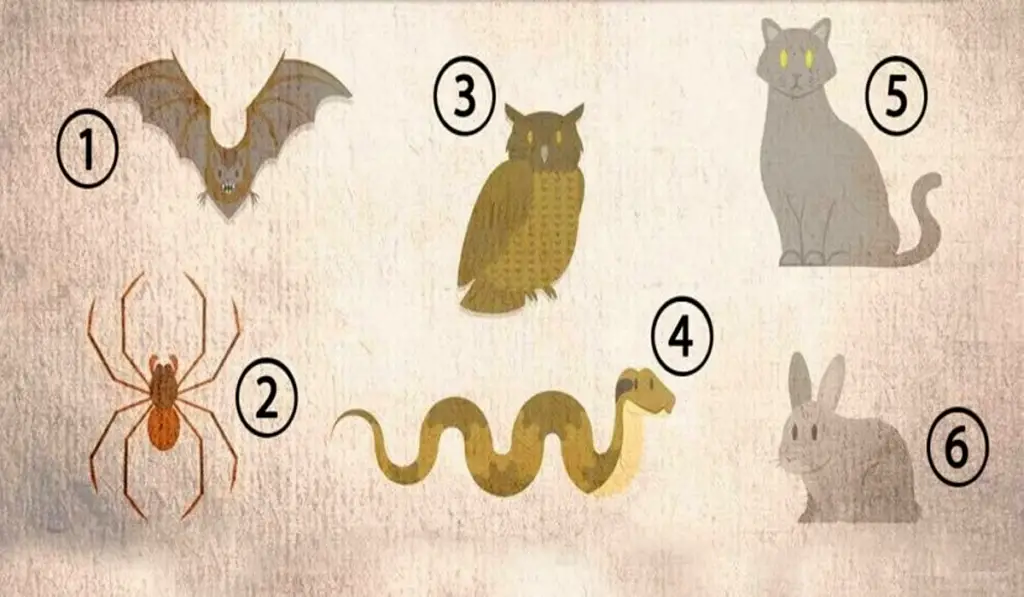 What should you do and what is the right way to go? Finding this answer is not always simple, but one is very clear, is that your destiny is closely tied to your spiritual purposes.
Your journey in this life is linked to the mission that you have come to accomplish on earth and that has been assigned to you on a spiritual level.
If you have always wanted to understand your mission here and guide your life on this path, today's test is for you and it is quite simple.  What you need to do is choose an animal in the image we show above. 
After that, scroll down to find out the meaning of your choice, which will give you an idea of ​​the help you need to live your trip to the best of your ability!
Recommended: What Is Your Spiritual Name? Take this Simple Quiz to Find Out!
If the animal you have chosen is …
1. Bat
Bats, although not admired by everyone, are incredibly intelligent and authentic creatures, just like you.
You don't like to follow all the rules imposed by society and you prefer to spend many "upside-down" moments. Your destiny is to show those around you that it is possible to free yourself from the weight of the opinions of others and the impositions of society to live a life that you really like and that is already going very well!
Your authenticity guides your life and always guides you where you should be. A bat tip for you: "Go out with your friends and family. Spending time with the people you love and who love you is a good way to heal ourselves and recover our spirits for life. Don't isolate yourself, get close to the people you love. "
2. Spider
The spider is a very articulate animal and planner. One of its major strengths is its spider web, which allows it to always be one step ahead of other animals. Although almost invisible, it has incredible strength.
 
It is similar to the bee. Although he does not like to expose his main strengths, he makes sure they always work in his favor and always tries to have control over his own destiny. His destiny is to create his own world and show by example how we can all weave our reality if we invest enough.
Recommended:  Tree and Date of Birth Association: Find Out What Your Special Power Is
The advice of a spider: "Whatever you sow, you will reap it in the future. If you sow well, you will attract good things to yourself, but if you focus on spreading evil, this is what you will receive. We are all connected by the great network of the universe and we learn in an easy or difficult way.
3. Owl
The owl is one of the most fascinating and wise birds in the animal kingdom. Thanks to his complete observation skills, he is always very attentive to everything around him and ready to handle any type of situation.
It is you, a person who has lived a lot and collects wisdom with each new challenge you face. Your ability to observe and analyze is highly developed, but you don't show it at all, you prefer to remain silent, analyze more and speak less. Your destiny is to use all your wisdom to do more justice to this world, exposing all sorts of lies and lies and helping to make peace reign again.
The advice of an owl: "Always be careful, just like owls. Ignorance is not happy and it is only through wisdom that we can build a reality of a healthy and happy life. Study each of your attitudes so you can be constantly evolving from them. "
Recommended: What's Your Life Purpose? According to the North Nodes in Your Zodiac Sign
4. Snake
Snakes are very intelligent and versatile animals. Even though they almost always live on the ground, they can move quickly or even jump if they want to reach something they really want. They bend and do not break. They don't give up until they conquer.
 
Like snakes, you have a great deal of determination and patience to achieve your goals, and no matter how difficult the path, insists all the way to get what you want. Your spiritual mission is to build a life of many successes, but where the center of everything is your ability. You should be an example of the fact that you don't have to outdo anyone to get your success because you can be a winner with your dedication.
The advice of a snake: "The worst poison is what comes from within us. When we always think of poisoning others, we can also be contaminated by our own poison. To learn how to make it work for you, turn it into a cure. "
5. Cat
Cats are independent and powerful animals, they always seem to know what to do and they don't like to be controlled by anything or anyone. However, they also need a dose of care and attention to stay happy and well-targeted. Like them, you learned to be alone and you don't like people who tell you what to do.
You are the lord of your destiny and do not accept being controlled by anyone, but you still need to know that you are loved and supported. Your mission is to learn that love is not always a control mechanism, sometimes just a demonstration of what lives in the other person's heart. Learning to accept it and celebrate it will make you much stronger and more successful on your journey.
Recommended: Which is the Mission of Your Zodiac Sign on Earth?
A cat's advice: "Being independent does not mean that you should isolate yourself from the world and refuse any kind of affection from other people. Understand that the love of another is the key ingredient in keeping you strong in the face of your challenges. Being independent doesn't mean being cold. "
6. Rabbit
Rabbits are animals with a great reproductive capacity and are therefore linked to fertility, creativity and the absolute victory of life over death. They represent the gift of nature to give life and represent the need to propagate the good.
 
You have a gift of reproduction very similar to that of rabbits, even if you are not necessarily tied to the reproduction of life. Instead, reproduce thoughts, behaviors, and learning, always focusing on what you can absorb from the people around you. Your mission is to spread the knowledge all over the world, share all their discoveries and personal knowledge with the people around you and help to form a more balanced and knowledge-based society.
The advice of a rabbit: "The exchange of knowledge is a blessing, capable of reawakening hope and life in the hearts of many people. Use your gift to transform the world around you. Be a great cultivator of ideas and wisdom. "
So which animal did you choose? What did you think of the mission he revealed to you? Comment below and tag your friends to have them answer the test!
You may also be interested in:
Choose a Spiritual Master in the Proposed Image and Discover the Mission of Your Soul
What Gift is the Universe Sending Into Your Life Now? Find Out by Choosing a Gift!
Receive a Message of Power and Motivation to Help You Stay Strong and Firm Towards Your Goals
Help Namastest raise the vibrations and share this article with your family and friends!