What Is Your Special Gift? Discover Your Hidden Talents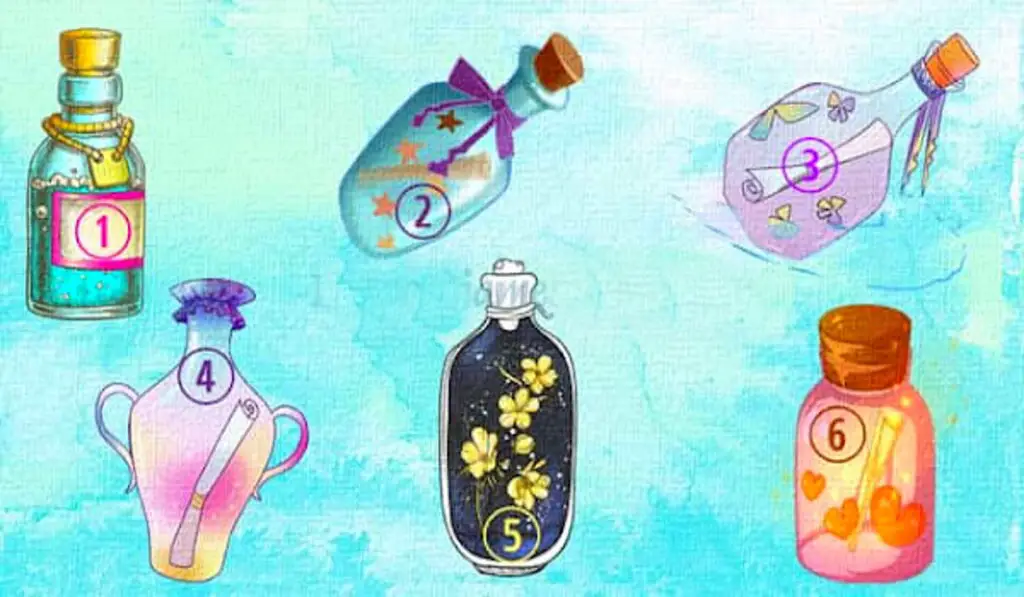 Each of us is born with certain "gifts". Some display acting talent, while others submit to the most complex scientific fields. 
If you want to know if you are blessed by gifts from "Mother Nature", then you just have to take this test!
Instructions
It is very important to use your own subconscious. Stores all the necessary information. To activate it, you must:
Relax and try not to think about anything.

Focus on your own personality.

• Imagine that you find a bottle and inside it has some gifts. What would you choose?
It is very important that you make decisions without thinking. In the first 5 seconds, our subconscious mind acts. If not the logic that can prevent us from a correct result will connect.
Under what number did you choose your magic bottle of gifts?
Bottle # 1
You are a universal person. Nature has endowed you with the talent to quickly learn all that you have a soul for.
Therefore, you can choose any activity that you like. There's only one downside: you burn out quickly and don't move on. It's worth fighting for!
Recommended: What Did You See First? Discover the Other Side of Your Personality
Bottle # 2
You were born to master the numbers. You can make great strides in banking, analytics, finance, and information technology. Any calculation and forecast are very easy for you.
Bottle # 3
Speaking in public: that's what nature gave you. You are an excellent psychologist who can get into the soul and find all the weak points. Sometimes, you use this ability in various areas of life.
Recommended: What Kind of Imagination Do You Have? Find Out With This Test
Bottle # 4
You are a person of art! You have been given the ability to convey your point of view to people through music, painting, etc. If you move in this direction, you will quickly gain fame and success.
Bottle # 5
You are a born leader. Thousands of people will follow you if you wish. It is easy for these types of people to manage organizations and run their own businesses. If you still can't make it, this result is worth considering.
Recommended: What Does Your Favorite Fruit Say About You? Find Out More
Bottle # 6
You have a talent for foresight. It is not even talent, but a gift. You can completely trust your own intuition in any situation. The main thing is to learn to listen to your inner voice and give yourself completely to that instinct.
Remember, innate talent is one thing. A person can always master his skills. You just need to make the best effort and commitment possible. So you can become the most talented person in any direction.
Which bottle did you choose? What's your Gift?