What Did You Notice First? This Projective Test Will Tell About Your Attitude In Love
Have you ever wanted to know your true attitude to relationships? Are you ready to trust your partner completely or do you subconsciously fear romantic affairs?
Maybe you think love is a childish stupidity that doesn't deserve your attention? Well, it's time to find out!
We offer you to take an interesting test based on the same principles as the famous projective techniques (Rorschach test, psychoanalytic associative test, etc).
Psychologists say that the human subconscious hides much more information than you could imagine.
Take a close look at the picture below. Your attention will first focus on the information that is currently on your priority!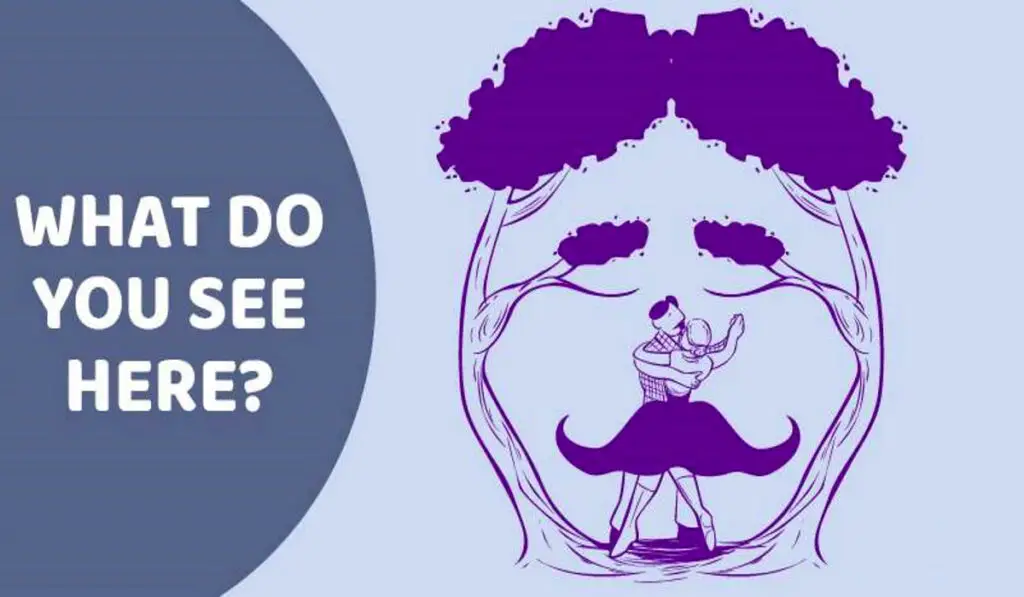 So, what caught your eye in this picture first? Answer without thinking!
And now it's time to find out what your choice means! Most likely, you have seen one of these three answers. Each of them can tell about your subconscious attitude to love.
1. A dancing couple
If you noticed a dancing man and woman, then you must have made the right choice! You perceive love as an equal partnership, taking into account the individual differences.
Most likely, you are already in a harmonious relationship, or you know exactly what kind of person you need!
Recommended: The First 3 Words You See Describe You Best – What Did You See?
2. Two trees
Love for you is overcoming obstacles. The more of them you have, the more involved you feel!
Most likely, you need some time to begin to trust your partner completely. That is why you often prefer not to rush things!
3. The face of a man with a mustache
A choice of this part of the picture may indicate that you are at a crossroads or experiencing psychological trauma associated with love relationships.
You may even think that living alone in this world is easier because there are fewer problems. However, psychologists claim that this is a temporary condition!
Remember, whatever your answer was, its interpretation is just a psychologists' attempt to shed some light on the mysterious human mind.
You can also ask your partner to take this interesting test. Have your results matched? Share with us in the comments!
---
For those who want to participate in other tests, we suggest: ↓
Egyptian Tarot Cards Can Help You Reveal Your Love Type
Choose a Picture And Discover Your Secret Weakness When It Comes To Love