Vata, Pitta or Kapha: What is Your Dosha?
Do you know what your Dosha is? Are you Vata, Pitta or Kapha? According to Ayurveda, there are three energies in each individual and normally one of them prevails over the others. The prevailing energy affects a person's constitution more.
Each of the three Doshas – Vata, Pitta, and Kapha – is composed of a combination of two of the following elements: air, fire, water, earth, and ether (the space in which matter is contained and can exist.
In particular, Vata is composed of ether and air, Pitta is composed of fire and water and Kapha from water and earth. The combinations of these three Doshas are responsible for all the activities taking place within us.
Recommended: What Path Have You Mastered On Your Way To Enlightenment?
The three Doshas form our constitution (Prakriti). Normally in each person, there are two Doshas which are more or less on the same level and a third Dosha which is predominant. In rare cases, all three Doshas are on the same level (in this case we speak of the Tri-Dosha constitution). When we are born, the three Doshas manifest themselves with a certain balance and to feel good we should be able to maintain this original balance during life.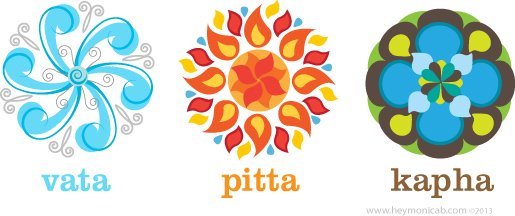 Our Doshas are influenced above all by nutrition, lifestyle, our work, the relationships we have, the place we live in and the passage of time.
Each Dosha has specific characteristics. By analyzing and comparing them with yourself you should be able to understand which is your predominant Dosha.
Recommended: Are You Psychic According To The Zener Cards
Vata
1) You are always on the move.
2) You have a slim physique.
3) Your skin is dry and dry.
4) You have brittle, dry and dull hair.
5) Your thoughts, words, and actions are quick and lively.
6) Make friends easily.
7) You are usually attracted to warm environments.
8) You have a lot of creativity and enthusiasm.
9) You struggle to relax.
10) You tend to have dry throats and chapped lips.
11) Your eyes are dark, small and always on the move.
12) You have a nose very small or very large.
Recommended: Quiz: What Kind Of Spiritual Person Are You?
Pitta
1) You have a normal body and you are neither too thin nor overweight.
2) Your skin is warm and tends to redden.
3) Your hair is blonde, red or prematurely gray, sparse and thin.
4) Your complexion is clear and maybe you have freckles.
5) You have a lot of self-discipline and are always organized.
6) You get angry easily and tend to criticize others.
7) You have self-confidence and an entrepreneurial spirit.
8) Excessive heat bothers you and you are attracted to cold environments.
9) You tend to eat a lot and don't like skipping meals, you love spicy foods.
10) You happen to be impatient and irritable.
11) Your eyes are medium in size and have a penetrating gaze.
12) Your nose is medium, neither too small nor too large.
Recommended: The Subconscious Test: Choose the Card you Prefer and Discover What Reveals
Kapha
1) You have a robust physical structure and gain weight easily.
2) Your skin is soft and oily.
3) You have thick and shiny hair.
4) Your words and actions are calm and stable.
5) You are very faithful, calm and sweet.
6) You usually sleep long and deeply, but you feel tired when you wake up.
7) Do not love humid environments.
8) You tend to be lazy and get bored.
9) I love the convenience and good food.
10) You enjoy your job, you earn good money and you know how to manage your money.
11) You have eyes large, sweet and bright.
12) Your nose is harmonious, balanced with the gentle features of your face.
Were you able to identify one or two predominant Doshas?
You may also be interested in:
Choose the Shell you Prefer and Listen to His Story About Your Personality
Choose an Orchid and Read its Precious Message!
Subconscious Test: Choose the Card You Prefer and Find Out What it Reveals
Help Namastest raise the vibrations and share this article with your family and friends!