The Tarot Card you Choose Will Tell You What will Happen Soon in Your Life!
Tarot cards have the power to predict future energetic patterns and events. They can even predict where you'll be a decade in advance! That's pretty amazing! Pick some cards and see what your future holds.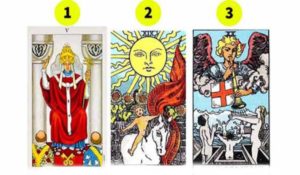 Card no. 1  
This card symbolizes unity. This card of unity unites all spiritual beliefs. If you choose this card, it means that during this year you will look for answers to questions that concern you in a religious, but not traditional, religious sphere!   
You have to talk to yourself and for this, you have to use prayer to find your way or find a teacher who shows you the right way. It is important to balance your actions with the desires of your heart and be kind not only to others but with yourself. 
 
You are at the beginning of the transformation process of your soul and your life!  
Recommended: Choose a Tarot Card and Find out What Advice they Have for You!
Card no. 2  
This card symbolizes the year of achievement, happiness, light, optimism, and satisfaction. Everything you want, come into your life and fill you with love and good events!  
The sun represents love, prosperity, health, beauty, and success, and if you dream of becoming a mother, you are very lucky, as choosing this card can also indicate early pregnancy.   
Card no. 3  
The choice of this card suggests that this year your life will degenerate, you will close the old cycles and start new ones. The time has come when you can leave everything your heart doesn't like without experiencing pain, sadness or fear. 
Recommended: This Tarot Test Will Reveal Your True Purpose in Life
It's time to evaluate, learn, grow, mature! This card is called "New Beginnings" because you leave everything you don't like to start a new life!
Help Namastest raise the vibrations and share this article with your family and friends!