The Magic Bird You Choose Will Tell You What Awaits You Next Month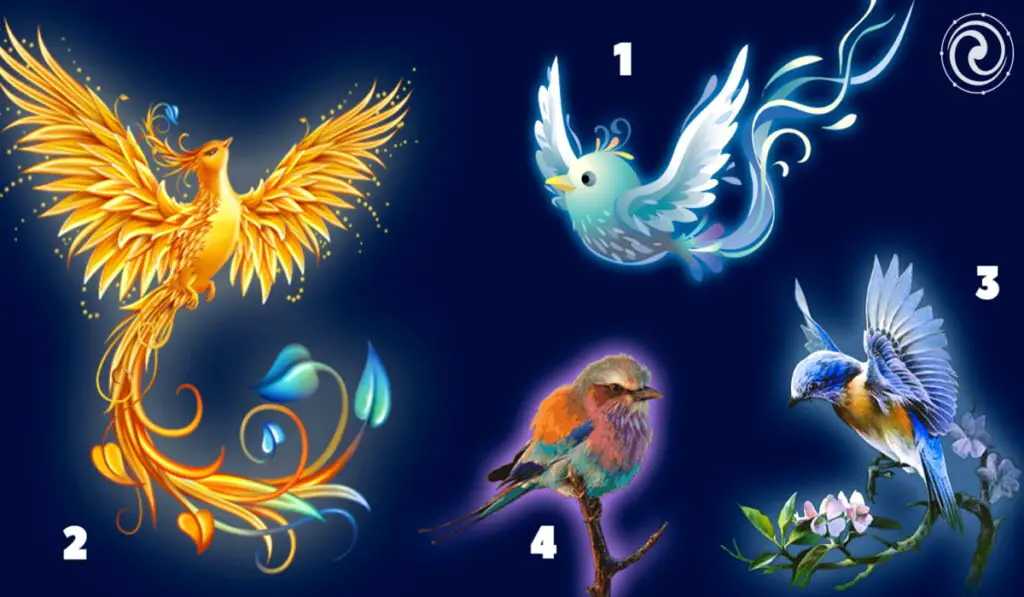 From fairy tales and songs, many of us know that somewhere in this world there is a magic bird of luck that can fulfill any desire. 
Some sources claim that this bird is sky blue, others that it is a bright fiery color.
Today we invite you to take a break from your daily routine and plunge into the world of dreams and magic.
So, imagine that while walking through the garden, you find a secret place. Magic birds perched on the branches of a sprawling tree.
Call one of the birds to you and perhaps she will give you a gift.
Bird 1
This bird flew up and presented its gift in the form of a positive charge of energy for the next month. In business, you will be luckier than ever. Feel free to get down to business!
 The main thing is to remember to listen to yourself.
Bird 2
You have chosen the bird of love. She promises you good luck in matters of the heart. In the near future, your eyes will sparkle brighter than diamonds because of love.
In addition, you can easily find a common language as a partner, with friends and work colleagues. You can agree on anything and with anyone. So it's time to ask your boss for a raise or go on a romantic trip.
Recommended: Find Out What Awaits You This Summer 
Bird 3
You called the most ordinary bird to you. All she can give you is her song. But you don't need anything. After all, the magic is in you. You can do whatever you want.
A little diligence and everything will work out. You were born under a lucky star. So just believe in yourself and do your thing.
Bird 4
You have caught a bird of luck, which is very rare! In the next month, you will be lucky in all matters. On an intuitive level, you will understand where you need to go.
In addition, you will receive a pleasant surprise within two weeks. So don't waste your time. You will succeed.
---
For those who want to participate in other tests, we suggest: ↓
What Did You See First? Discover The Path That Will Lead You To Success
What Beliefs Keep You From Achieving Abundance? Choose a Card to Find Out