Test: What Are You Missing to Achieve Happiness in Love? Choose a Diamond and Find out!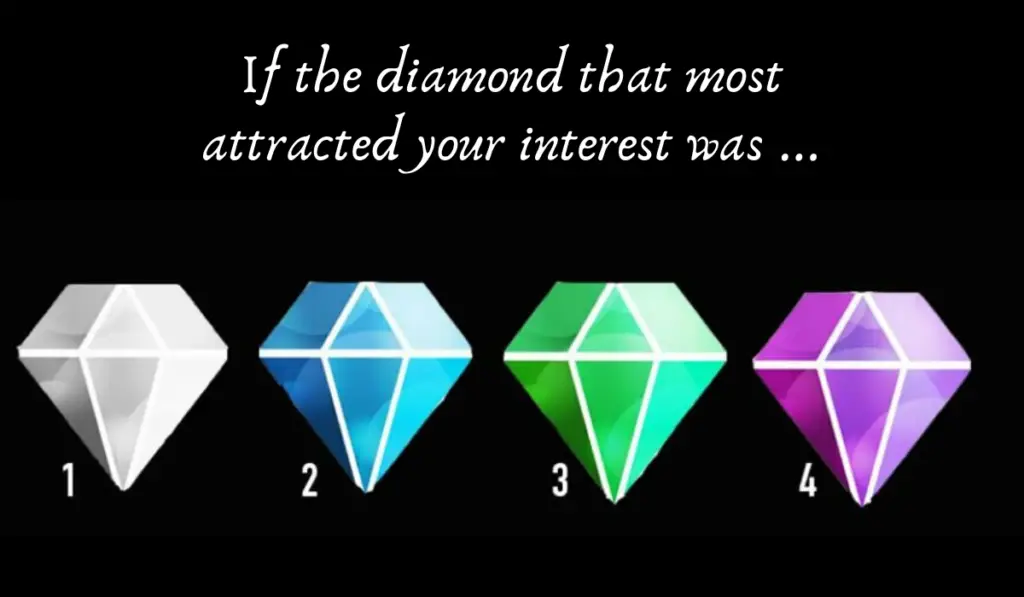 It takes a lot of things to make a love relationship work, but we can't always identify exactly what we are missing.
Learning what is still needed to develop or perfect and work on it are key initiatives for a happy relationship, which is why we took this test today, it will help you achieve happiness and success in love.
The diamonds shown in the image above are all beautiful, but which one do you like best? Take some time to think and be guided by intuition. After choosing your favorite diamond, continue reading the text to find out the answer that reveals to you about your love life and how to improve it.
 
Are you ready? Let's go to the results!
If the diamond that most attracted your interest was …
The Silver Diamond:
What you need to develop to be happy in love is maturity. You may be mature in other areas of life, but when it comes to love, you may leave something to be desired. Believe that the other person should just please you and put all their goals aside to be with you.
 
When you understand that a relationship goes much further when partners have their goals and that everyone is responsible for their own happiness, the doors of love will open for you. Understand, your partner's mission is not to make you happy, but to bring more joy into your life. At the end of the day, the responsibility will always be yours.
Recommended: Choose a Flower and Discover the Message that Your Guardian Angel is Trying to Send You
The Blue Diamond:
Lack of companionship may keep you from being happy in love. Of course, nobody needs to put their whole lives aside just to be with someone else, but when we choose to be with someone, we have to be willing to be their true companions.
 
Love is strengthened when both people are always present to each other and share every moment of their life. If you want to focus only on yourself, don't start a relationship, because the other person deserves your best, not your leftovers. 
The Green Diamond:
What you have to work on to be happy in love is jealousy. This feeling is a classic relationship interruption factor and can be motivated by several factors: traumas of past relationships, childhood trauma, insecurity, heartbreak, along with many others. Jealousy is part of our life when we like someone, but when it reaches critical levels, it can cause irreparable damage.
If you don't trust the other person enough, you won't be able to have a relationship with him, you expect someone to inspire confidence or heal everything that sabotages your love experience. Jealousy is toxic, destroys happy relationships and loves. You deserve much more. Work on your trust and you will be much happier and more confident in all areas of life.
The Pink Diamond:
Emotional unavailability is what hinders you. You may believe that you are very interested in the other person, but within yourself, you do not feel able to live a relationship. Your past experiences have made you build a wall around your heart and now you don't know if you want to destroy it.
Understand: to live healthy love, you must be sure you really want it. If you feel that something is holding you back, don't start a relationship, because it will only make you suffer. Emotional unavailability is serious and must be taken care of so that you can build a happy story with someone.
Recommended: Choose a Tarot Card and Find out What Advice they Have for You!
So which diamond did you choose? What did you think of the message you received? Comment below your opinion and share the article with your friends!