Test: Choose an Egyptian Card and Find Out What your Life Will be Like in the Future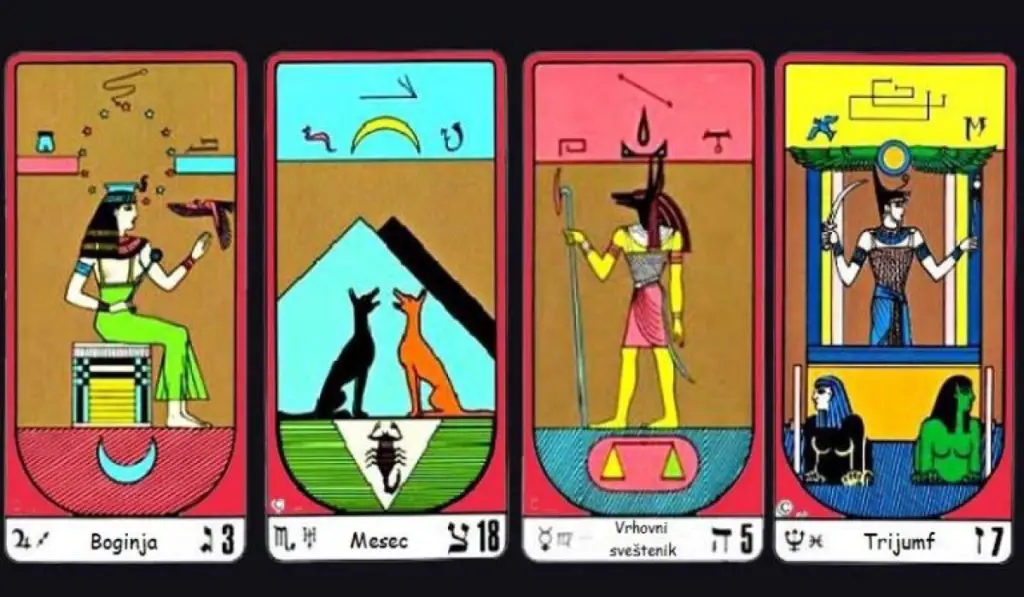 The Egyptian tarot is one of the oldest existing and through its reading people have better-understood occultism and the art of divination. In Egypt, it was common to consult the cards to predict the future in many areas of life, including financial ones.
Today we brought a quiz that includes a reading of Egyptian cards related to luck.  Do you want to know what the future holds?
Choose one of the four cards shown, read on and know the result.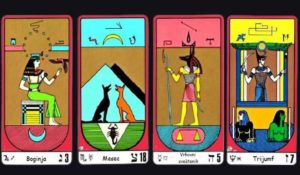 If the card you have chosen is …
The Empress:
Isis, the empress, has twelve stars in her head representing an annual cycle. Her breasts are a sign of femininity and even maternity, but they do not necessarily indicate a future pregnancy, they represent only an overly loving mother, who could even press her son. At the bottom of the arcane is the crescent moon, which represents a great period of your life, full of fertility, prosperity, growth, and development in all respects.
The empress indicates that you are a vital and joyful person, and also indicates that wealth and luck will come soon and will be the result of all the positive work and seeds you have planted. You will enter a period of great happiness, optimism, and success even before you can imagine you can start celebrating.
Recommended:  Choose a Tarot Card and Find out What Advice they Have for You!
BY NAMASTEST · DECEMBER 19, 2019
The moon:
The moon has a great influence on nature and people and is able to transform anyone by bringing out our best or worst instincts. With this card, passion is born, but also jealousy, not only in love relationships. If you feel something negative about someone, it becomes even more intense with the presence of that card.
The Moon card says luck will only come when you learn to act wisely and thoughtfully. You have to put aside the impulsiveness and connect with your intuition. Luck will follow your energy, so preserve and pay attention to what really matters.
 




The hierarchy:
The hierarchy is represented by the god Anubis, lord of the necropolis, protector of souls and secrets, who is present at the judgment of souls. Anubis is also known as the Guide, as it is his responsibility to guide the souls of those who have already left for eternal rest or punishment, according to their actions during their lifetime.
At your feet, there is a balance. If it tilts to evil, there will be eternal and merciless punishment for the soul, but if the heaviest weight is on the heart, much happiness and prosperity will be present in your life.
 
This card shows exactly what you need to do to attract luck and all the other good things in your life: take care of your heart. Cultivate it with good feelings and company, make it an instrument of good and the best things in life will come to you.
Recommended:  Which Tent Attracts You the Most? Your Choice Will Allow You to Learn Something New About Yourself
Victory:
This card symbolizes the end of a battle. After a long flight, you arrive triumphantly, as in your letter, crowned by the Sun. During your battle, which brought you some losses and made you cry, you got lost for a long time and you were almost inside, but now live well again.
It represents a very positive moment and you should make the most of it, enjoying all the merits of your strength and perseverance over the years.
Financially, this letter bodes well for good times. Eventually, your reward will come and you will be able to accomplish many things that for a long time were only unreachable dreams or goals and build a life that you will be proud of.
So which Egyptian card did you choose? Do you like your prediction? Comment below and tag friends!
Help Namastest raise the vibrations and share this article with your family and friends!