Test: Choose a Bell and Discover Your Future
The new year is coming and in order to start 2020 in the best way and awaiting many victories, it is necessary to prepare properly.
Choose the bell you like best and find out what tips you should apply in the future: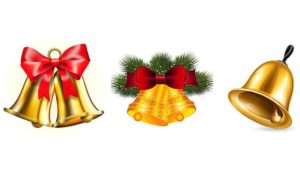 Bell n ° 1: 
This bell reminds you that change is part of life and that you have nothing to fear. You are currently in a natural maturity cycle and are expecting changes in many areas of your life.
Accept the changes and don't fight them. If you feel bad, now is the time to act and change.
 
Continue your spiritual journey because you have so much to offer the world. The love you have in your heart has the power to reach not only those around you but also the whole world.
Bell n ° 2: 
This bell reminds you that the family is very important. But the family is whoever you choose to keep close to you, not just those with whom you are tied to blood.
People in your family are important, so it's time to connect with them.
 
The family bond is deeper than the words you say and people in your family can hear what you are doing, thinking or hearing without talking to them.
Bell n ° 3: 
This bell reminds you that you should start to consider yourself hard work laying the foundation of his home. Think of your life at home. Whether it's a career, a new lifestyle choice or a new diet, take your time and don't run.
Make sure each area is completed and in the right place before proceeding. Focus on the end result and enjoy the process.
 
Believe in your vision and find out what has been judged to you, what is destined for you and what calls you. For you, there is no more light and darkness, only life, free and clear.
Leave a like and share the test with your friends!