Tarot Cards Predictions : Your Past, Present and Future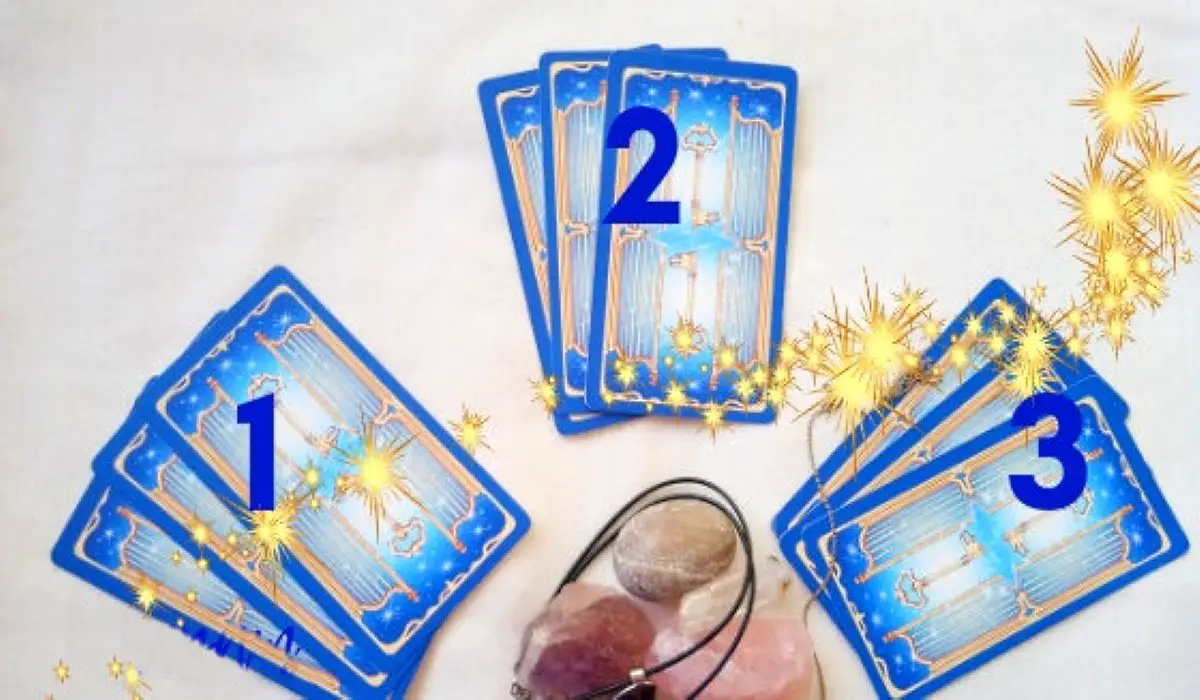 This 3-card spread answers questions about your past, present, and future. When choosing one of the three options, think about the question you would like an answer to or the problem you are facing. 
As you read the interpretations on each card, consider how they relate to the question you asked or to your current situation.
1st card (Past): This card reflects your situation – why you are where you are. It often symbolizes the person or relationship in your life that influenced your question.
2nd card (Present): This card represents the current problem, often as a direct result of a past situation. Pay special attention to this card as it may show you things that you missed earlier.
3rd Card (Future): The last card in this layout contains recommendations for overcoming your problem. It can provide options you didn't consider, or resources and people you didn't consider.
Once you have selected and read the meaning of the cards, go back to the original question. And think about how the information received resonates with you, what food for thought, and what impetus for action It can give.
And I want to remind you that Tarot cards only tell about the situation through the vision of your subconscious mind. And a person always makes a choice himself: to follow him along this path or not.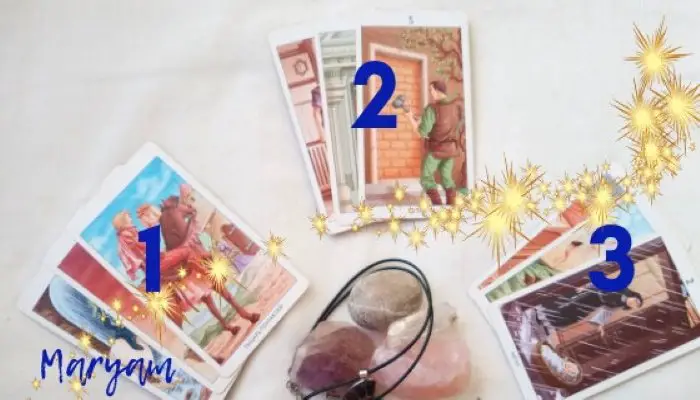 Option 1
The Past Card – The Knight of Pentacles says that in the recent past fate has made you a pleasant surprise. This may be a lucrative offer or favorable conditions have been created to solve your problems or fulfill your wishes. But you thought too long, tried on, instead of acting.
The Present Card – The three of Wands says the state in which you are today is a consequence of your indecision. But I want to say that this is a small respite before a decisive leap forward. 
You need to look for an alternative approach to the current situation in your life. Trying to act as you are used to or endlessly doing something that does not work is no longer worth it. Need to find another way. 
The Future Card – Knight of Cups. Before you are a problem or a question that at first glance only seems so difficult. In fact, you need to overpower yourself and act. For the sake of fulfilling your desires.
Remember, water does not flow under a lying stone. If you have a relationship, then there is no need to wait. Romantic acts, gifts, the first steps towards the object of your attention will give you the opportunity to build or strengthen relationships with your loved one.
Recommended: What Should I Stop Doing This Year? Receive an Advice from the Oracle Cards
Option 2
The Past Card – The five of Wands. In the recent past, you had a situation that caused anger and aggression in you, despite the fact that these emotions are unusual for you in your everyday life.
Most likely you are in a difficult life situation and not only through your own fault. And you tried to solve it by force. This refers not only to an external force but more to an internal one – an attempt to put pressure on someone, to intimidate.
The Present Card – Major Arcana VIII Judgment. Now you are reaping the benefits of not being able to cope with your emotions, to make the right adequate decision. But if you've been honest, justice will prevail.
And even if everything does not go as fast as we would like, this issue will be resolved in your favor. Therefore, you can safely act to resolve your issue. Do not stoop to squabbles and quarrels, trust in the Highest Justice. She will lead you to the desired result. This card may also say that your issue can be resolved in a real court order.
The Future Card – The four of  Swords. After everything you've been through, you have a lot of inner work ahead of you. You need to think about why I was given this situation, what conclusion I should make for myself personally.
And pay attention to health. Excessive emotionality can lead to a malfunction in the body. You need to let go of everything outside and be a little yourself. Trust your inner voice, it will tell you where to go next.
Option 3
The Past Card – 2The two of Swords. The card says that you had to act in a situation of surprise. Life circumstances developed in such a way that plans were constantly collapsing, you were let down and betrayed.
And you had to act even when you didn't like it. From this, additional worries and troubles constantly arose. I really wanted to throw the burden of responsibility onto someone else.
The Present Card – the Major Arcanum-XX The Last Judgment. This indicates that you are now in a split state. You are inspired by some idea, but you are afraid to implement it.
A certain period has ended in your life, on the one hand, it is good that everything is behind, but at the same time, you are still under the impression of what happened to you and constantly replay past events in your head.
The Future Card –The nine of Wands. It also confirms that a certain period in your life is ending. You will receive a reward for your work, both morally and materially. There is a transition to a new, more successful period of life. But you shouldn't let things go by themselves. You will need to continue to work, grow spiritually in order to achieve higher goals.
---
For those who want to participate in other tests, we suggest: ↓
Choose a Fairy And We'll Reveal What You Are Attracting In Your Life
Lips, Couple, or the Ocean? Discover What You Need To Change to Be Happy
Source: https://zen.yandex.ru/