Here's How The September Full Moon Will Affect Your Life, Based On Your Zodiac Sign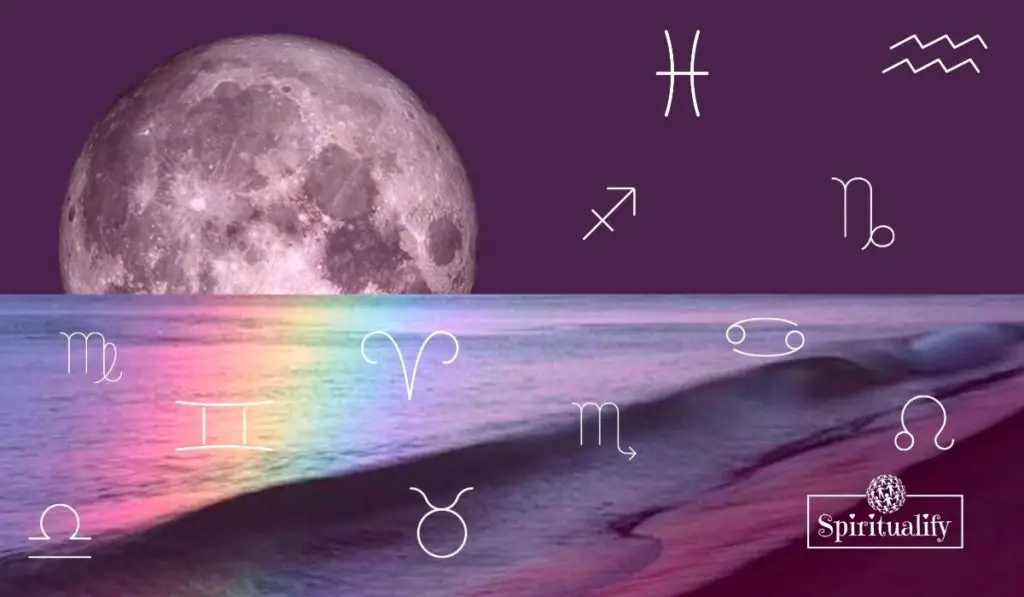 We have your horoscope for this incredibly powerful Full Moon in September, and you'll want to write a few things down.
 
September 2021 is a big, bold month with some strong cosmic energy building up in the air. This brings personal freedom, positive change, and exciting events. 
Because this is The Harvest Moon we can expect a few things to shine more prominently in our lives at this time. Certain messages will be impossible to ignore. The lunar qualities of emotions and instincts reach their peak at a full moon.
So use your increased emotional strength and intuition to overcome any relationship challenges. Subconscious awareness allows for an impartial and balanced look at your personal relationships. You will clearly see any relationship dynamics or negative feelings causing disharmony.
Pay attention to the uncomfortable and the unsettling feeling when they arise- the Universe is trying to tell you something!
 
Flashes of insight and stronger intuition can guide you in making quick decisions. Follow your instincts to make the most of new opportunities. This Full Moon is also good for breaking old habits and replacing them with something new.
Here is your horoscope for this September Full Moon "
ARIES
 Let go, believe, and receive, Aries. It's a moment to celebrate and acknowledge the tools in your kit that help you move beyond tangible trappings, and into the realms of the unknown. If you're able to quiet down the outside forces in your life (as well as the chatter within your own mind), you'll be able to hear your higher self with more ease and clarity.
TAURUS
 This full moon is asking you to connect with close friends — as you're likely to find support and inspiration within your community. If you've been working on your goals in a solitary fashion and keeping your feelings to yourself, now's a great time to branch out and seek collaboration when it comes to your to-do list. Breaking new ground, shaking up the norm, and doing things differently is an idea worth strengthening, and you may present this through your physical appearance, or through a project, plan, or passion.
GEMINI
It may be time to recognize an accomplishment or milestone, a vocational goal reached, or a feat that's come to fruition. While there are enjoyment and satisfaction to be gained from your side, you might feel that within relationships someone else is falling short, or not paying their way, Gemini. Try to recognize what they do offer but know today it's about your reputation and efforts. You're able to revitalize your work life under the beams of this full moon — and it's probably one of the best moments of the year to get inspired about your path and your calling. Today, grow beyond the hand that was dealt with you.
CANCER
 It's a moment to acknowledge the ways you learn and grow, embracing and experiencing another person's perspective or lens, Cancer, allowing others to share their wisdom with you – and you with them! There's no need to hold on to past ideas — you're an ever-shifting, ever-evolving being. Try to make room for free-flowing explorations, changes, and paradigm shifts ahead. Notice the part your circle of peers has on your outlook, what people in the world at large enable you to think, feel, and know – what truths are sparked in you thanks to the input or influence of others?
Recommended: Discover Which Planet Affects Your Zodiac Sign
LEO
It's a day to acknowledge your work and efforts, celebrating progress made around resources & working together – with the Moon putting emphasis on what "we" do merge together, as well as what you're able to manage solo. Your commitments and investments are spotlighted, Leo, so that you can take a generous pause, with a moment set aside to relish partnerships across the board – what you're able to do thanks to the involvement of others. Under this full moon, put your emotional efforts into finding strength in your shadow side. If you never dig deep and dissect the darkness under the surface, it'll keep you from stepping into the most evolved version of yourself.
VIRGO
Have the deep and probing conversations, now that you have the powers of persuasion on the side. The Full Moon lights up your seventh house of partners, so although it's your birthday month you're more interested in how others are feeling today. This Full Moon in Pisces is asking you to take a break from your personal quest for self-improvement to channel some energy into your closest partnerships. Our relationships can serve as a mirror for our own issues and offer a chance to learn about ourselves, so get in touch with what you want and need out of your own partnerships — and make adjustments as needed.
LIBRA
This marks a moment to celebrate a job well done, Libra, so be sure to recognize where your dedication, efforts, and consistency around the little things have paid off – possibly quite literally! Where have you been devoted, selfless, and made serving others a part of your routine? Once you've cleared your calendar of clutter, you have the chance to build it back up in a way that supports your healing, growth, and balance. Structure your days around your wellness, not just your friends.
SCORPIO
 The Full Moon peaks in Pisces and your fun fifth house of romance, passion, love, and affection, lending the spotlight to personal passions and solo interests, Scorpio, as although it's Virgo Season – and a time for friendship and community – equal light (and awareness) is now lent to both what makes others smile and what's good for you! It's an especially good time to open up your mind to creative inspiration and pour your energy into painting, music, or any other form of artistic self-expression.
Recommended: What Type Of Empath Are You, Based On Your Zodiac Sign?
SAGITTARIUS
Take it easy, as your private life and security could feel extra charged and heightened, give yourself tenderly, loving self-care, or be ready to ask those around you for what you need – if you don't ask you don't get! Prioritize some downtime and connect with your longtime friends or family members. Seeking inspiration from the people who know you on the deepest, most intimate levels will energize your creative side.
CAPRICORN
It's hard to make things 'work' if we're forever asserting our own influence and even imposing boundaries, rules, or limits. Don't let this year's restrictions dull your optimism too much, Capricorn, as with Jupiter in your sign – and the month of Virgo Season in motion you can explore and discover new horizons through a course, educational journey, or even through striking up a conversation with someone different to you, which isn't hard to do with the internet. Go out of your way to take a different route.  Journal out your thoughts, have heart-to-heart conversations with friends, and don't sleep on this important chance to express yourself.
AQUARIUS
Don't expect it to be all smiles, with shifts in your private life now, Aquarius. There's plenty that's been occurring in the private, hidden realms for you Aquarius, and many won't be privy to the transitions and transformations that have occurred just beneath the surface, with slow-moving Saturn joined by Jupiter in your house of endings, closure, and surrender. It's easy to get caught up in spending money, time, and resources on things that don't actually mean all that much to you — but if you listen to your gut reactions to the choices you make, you can get to know yourself on a whole new level and start building the life you want.
PISCES
You've likely experienced a lot of growth and awareness among broader circles this year, Pisces, as Jupiter now tours your house of friends, allies, community, and peers, putting emphasis on those that would support you as you step out into the world with collective interests in mind. Whether through experimenting with your outfits or through creative arts, you'll find that you're bursting with inspiration — and it'd be a shame not to use your vision to connect with others under this luminary.
---
Recommended: The End of August Will Be the Time When Dreams of These Zodiac Signs Will Come True