Discover Your Inner Personality by Choosing Your Favorite Gemstone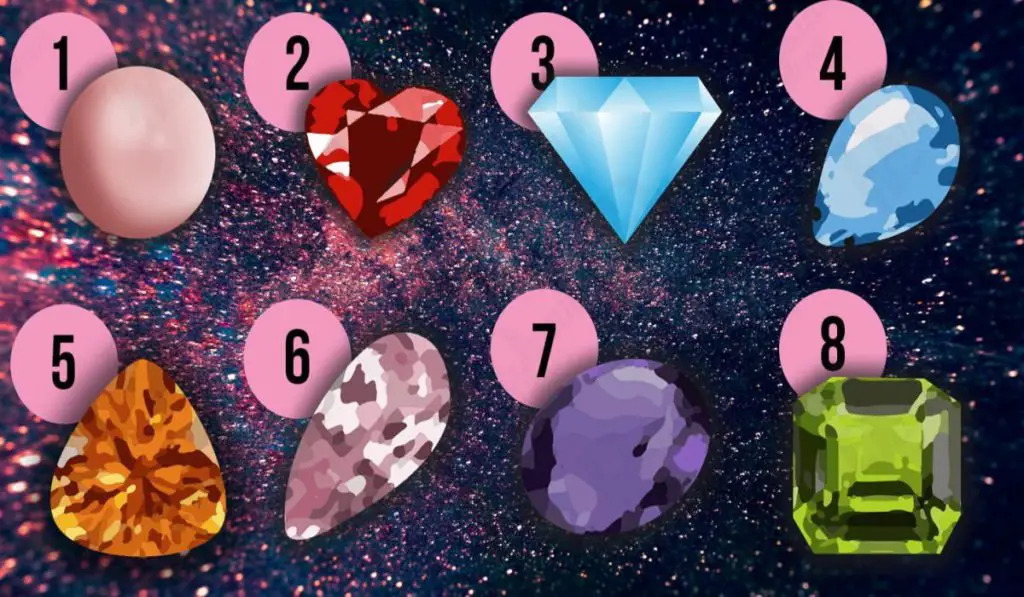 Before giving you any type of test, especially the personality test, we test it ourselves, in order to verify its accuracy. And also because we are very curious about what kind of people we ourselves are. If it's reassuring, some of us have tried it and these tests are surprisingly true.
Each sparkling stone below represents a distinct and unique personality type. Let's explore your amazing qualities through this test!
Our actions, habits, interests, and perspectives in life can reflect many things about our personality. 
Please choose your favorite gemstone in the image below. The chosen stone will reveal the profound aspects of your personality and subconscious mind!
To make accurate disclosures, it's best that you don't make a second choice. The first that catches your eye should be your choice. So let's start the test! Pick a gem in the image below!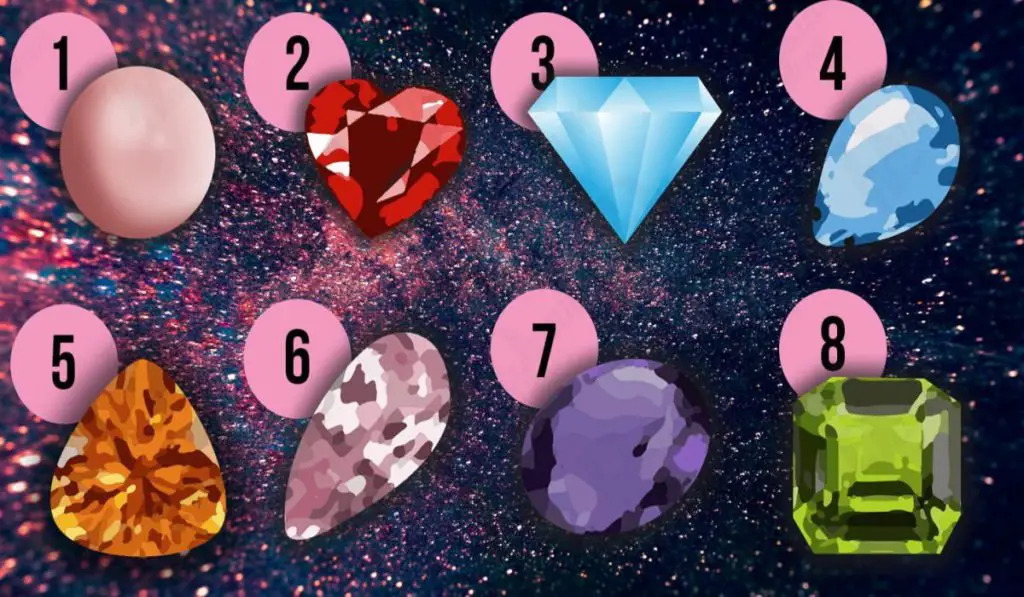 Reminder: the only purpose of these tests is to have fun, none of this information provides a diagnosis, nor does it replace professional advice.
Gemstone 1: Pearl
You are a very humble person, calm and aware of your worth. You think before you speak or make decisions. Your personal accomplishments give you the opportunity to be proud of yourself. A pearl is not really a gem, it comes from nature.
This stone has been valued and admired by people for centuries, and like a pearl, you show wisdom and integrity, thrive under the pressure of others, and learn from your own experiences over time. Life changes are right at your door, so don't miss out!
Gemstone 2: Ruby
Rubies are stones that adorned the royal crown centuries ago. If that was your choice, it means that no matter where you go and whoever you talk to, you make a difference. You are full of life and passionate about your beliefs.
This stone, in particular, is considered powerful and filled with desire, achievement, and leadership. You've been struggling with something for a while, but don't give up just yet as it will be over soon and you'll be happy you were strong and done anyway.
Gemstone 3: Diamond
You are a determined person, ambitious and strong. You are making a positive impact on the people around you. Like diamonds, you shine brightly, even in the darkest and most unfavorable conditions. When everyone else is sad or boring, you are here to cheer everyone up.
Diamond is the hardest natural substance on Earth, and you are exactly the same. The pressure will not break you and you have the strength to endure everything. You are hardworking and honest. Something unexpected and exciting is coming soon, it may be a little scary to take risks, but you won't regret it.
Gemstone 4: Aquamarine
You love adventure and always look on the bright side. Aquamarine is not just a stone, it's much more. It means deep ocean waters and protection. You tend to care deeply about people close to you. 
You may be feeling a little depressed lately or maybe it's boredom that is taking you away from your energy. But be patient, that extra dose of adrenaline you crave will get to you sooner than you think.
Recommended: Your Favorite Card Reveals An Important Message About Your Life
Gemstone 5: Citrine
You are a friendly, kind, and loving person with a playful and contagious smile! As a word that means lemon, you are fresh in your ideas and open-minded. People admire you for the incredible soulfulness you bring to life. 
You have a very optimistic outlook on life that is hard to forget. You solve problems and offer fair solutions that make everyone happy! Recently, however, a terrible black cloud may appear above you. Fortunately, your sun's rays will pass through it, and only the cloud will disappear!
Gemstone 6: Pink tourmaline
If you choose tourmaline, you are a valued person! You care about other people's feelings and have compassion. You are so kind that you can never offend even a fly! The people around you trust you so much that they tell their deepest secrets. You are very approachable that way. You are very passionate about your beliefs.
Research shows that when a stone is rubbed or heated, it is electrically charged. For you, this means that when people provoke you, you tend to react. And if you've been pushed to the limit, take a deep breath and relax, it'll be over soon.
Gemstone 7: Amethyst
If you choose this stone, your life is filled with colors and rainbows, as are your relationships. You are smart and very passionate. If you believe in something and put all your energy and spirit into it, nothing can stop you.
This stone is known to provide a sense of balance and control. And it really suits your personality because you are calm and collected. You are one of the first to be asked for advice or help, as a protector who takes care of everyone else. You need to change, have more fun, and live the way you want.
Gemstone 8: Peridot
You are a calm person and collected even in the most stressful situations. You pay attention to details and you are very organized. Once you have decided something, no one or nothing can make you think otherwise. And as soon as you start to love, you give everything. People go to great lengths to enjoy your positive energy.
The best way to describe you is that you are the light at the end of the tunnel. Remember to stop for a moment and think about yourself. Something or someone new comes when you least expect it, friend, lucky, partner, whatever!
---
For those who want to participate in other tests, we suggest: ↓
Personality Test: Choose The Tree That Seems Most Human To You
The First Detail You See Reflects A Hidden Part Of Your Subconscious
Discover More About Your Inner Self by Choosing a Pattern You Like Most
Help Namastest raise the vibrations and share this article with your family and friends!