Choose the Stone that Attracts You Most and Discover a Wonderful Secret About Yourself!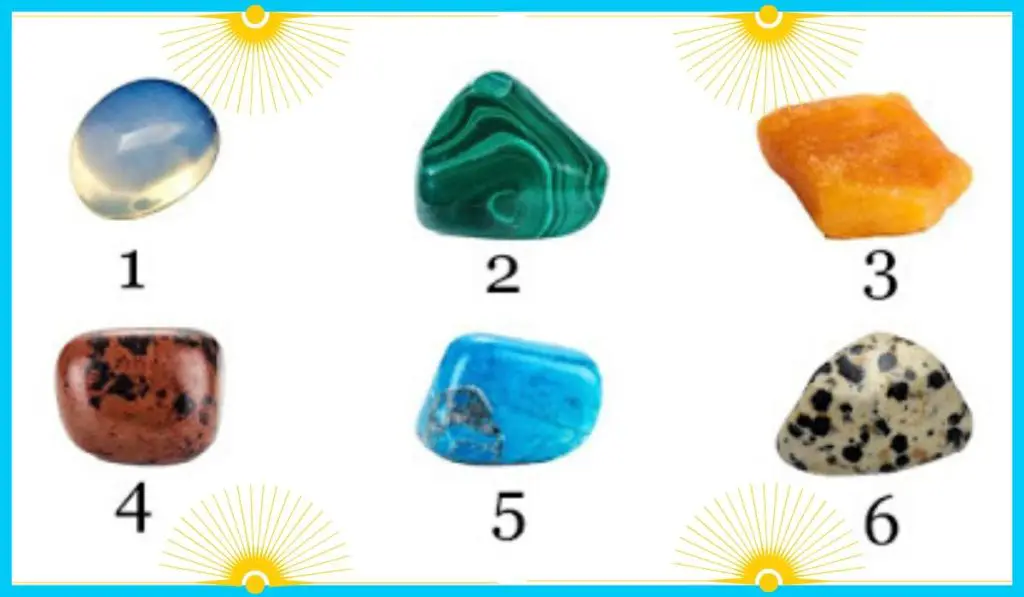 Many people believed, for a long time, and still continue to believe in the power of stones. Their extraordinary peculiarity of these stones is that they are located in the center of the earth, and this being in the center of the earth allows a direct connection with nature.
This is probably what made people believe and continue to believe in their power to show their desires, as well as their deepest secrets.  Do you want to try? 
 Choose one of the stones, which we will show you below, and find out what he has reserved for you. 
If you chose the first stone:
The first stone is an Opalite. You want to live your life away from the hustle and bustle of civilization. Very often you feel the need to unplug to find your tranquility, your peace. 
Recommended: Choose One Gemstone To Read an Advice For Your Current Life Situation
If you chose the second stone:
The second stone is malachite. There are important changes for you on the horizon. Many of these changes will be spiritual in nature, but you may experience changes in love. This is a good time to reconsider the lifestyle choices you have made.
If you chose the third stone:
The third stone is a sunny stone. You have a very attractive and sunny personality. Your future may not be bright, but be sure to draw only positive energies around you. 
If you chose the fourth stone:
The fourth stone is a mahogany obsidian stone. If you have been attracted to this stone your subconscious is trying to tell you that it is time to break old habits and the routine to start a new life. But, remember don't let your mind take over. 
Recommended: The 7 Gemstones that Have the Power to Protect You! Choose Yours!
If you chose the fifth stone:
The fifth stone is called howlite. Be prepared to receive advice and help from your closest relatives and friends. Always pursue your dreams with synchrony and awareness that they will be your future. 
If you chose the sixth stone: 
The sixth stone is the Dalmatian distro. This stone indicates that you are fun and want to keep your life alive. You are always looking for new friends and new adventures. 
SHARE THE TEST WITH YOUR FRIENDS AND FIND OUT WHICH STONE THEY PREFER !! 
For those who want to participate in other tests, we suggest: ↓
Find Out What Your Spirit Must Do to Evolve Through This Powerful Test!
Find Out What News Await You in the Future, Based on the Bird You Have Chosen
Discover the Meaning Behind the Stone You Choose. Let Your Subconscious Guide You.