Choose The Skull That Attracts You The Most And Discover What It Reflects On Aspects Of Your Life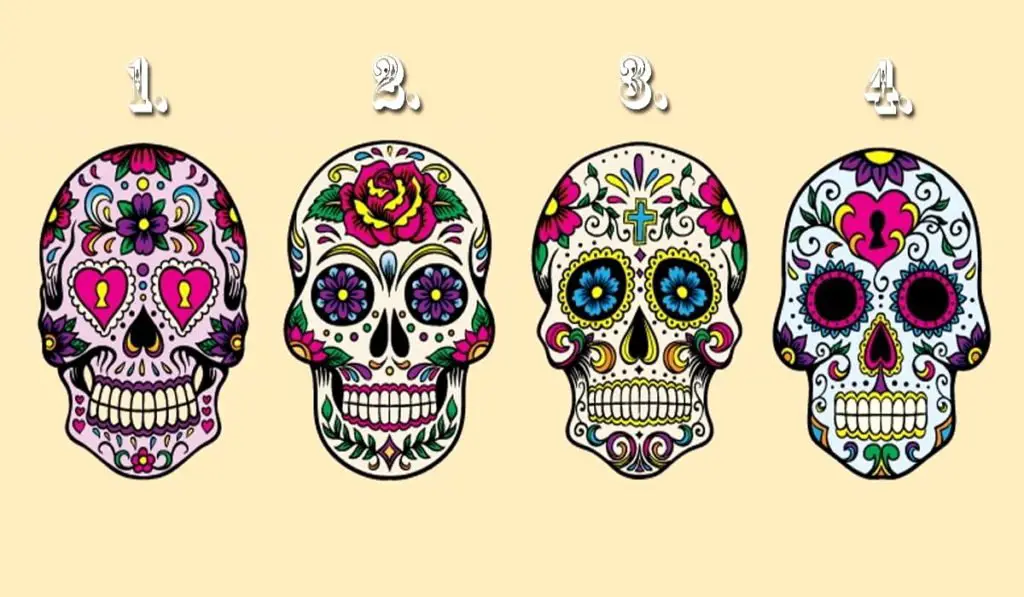 We invite you to observe the skulls of the figures and choose the one that you "feel" that best represents you.  Just use your intuition or, in other words, choose the one that best appeals to you.
Discover what it reflects on the aspects of your life and what it is that your soul truly comes to realize.
1. Creative and sensitive
You have a high sensitivity, which gives you a special way of perceiving the world, life, and people, and through which you can create many different things. 
You are a naturally creative person who can be easily appreciated in your world, although likewise, your high sensitivity can lead you to experience emotional ups and downs.
Your main challenge is to learn to control your emotions. Remember that, regardless of the circumstances, we can choose to keep control of our emotions and our lives; and that, as far as possible, it is very important to avoid making permanent decisions, being carried away by temporary emotions.
2. Criticize and integrate
You are characterized by being a person with a great sense of justice, the desire to be treated fairly with others, but above all with a superior commitment to things well done. 
In that sense, you are terrified of conformity and often think that the only and best way to do things is to do it yourself. 
You have a tendency to work more than the limit, looking for everything to be perfect, and for that reason, your main challenge is to pay attention to how it affects your well-being.
Understand that the authoritative voice in the third person that leads you to seek perfection is not really you. Give yourself time to rest and have fun, because many of your greatest inspirations and best ideas will come from joy.
Recommended: Psychological Test: Are You Ready to Find Out Who You Really Are?
3. Safe and influential
You are characterized as a person with great strength of character and the ability to convince others to accompany you in almost all types of causes. 
It is likely that at some point in your life you have felt weak or vulnerable and, for this reason, you have developed an overwhelming attitude, which for some people can be intimidating.
You are a natural leader and, for that reason, your main challenge is to learn to use the power of leadership in a constructive and positive way. 
Remember that you are able to influence the world in many different and valuable ways.
4. Generous and friendly
You are characterized as a friendly, cooperative, very noble person with great generosity that makes you feel the needs of your dear people as if it were yours. 
It is possible that you spend a lot of time in your life trying to solve other people's problems, and for that reason, there are many problems in your life that have not yet been solved.
Your main challenge is to learn to recognize that your main responsibility is with yourself. And while supporting people is wonderful, it is important to remember that only when your life is in order and your expectations and desires are met, can you move on to resolve the affairs of others. 
Achieving this balance in your life will allow you to live happier, more prosperous, and in a much more sensible and real way.
---
For those who want to participate in other tests, we suggest: ↓
Which Button Will You Press if You Know This Will Change Your Life?
The First Thing You Saw In This Picture Will Reveal What Your Attitude Towards Love Is
This Image Can Determine Your Current Mental State – Do You Dare To Know What It Says?
Help Namastest raise the vibrations and share this article with your family and friends!