Choose a Scroll of Happiness and Find Out What Awaits You in the Future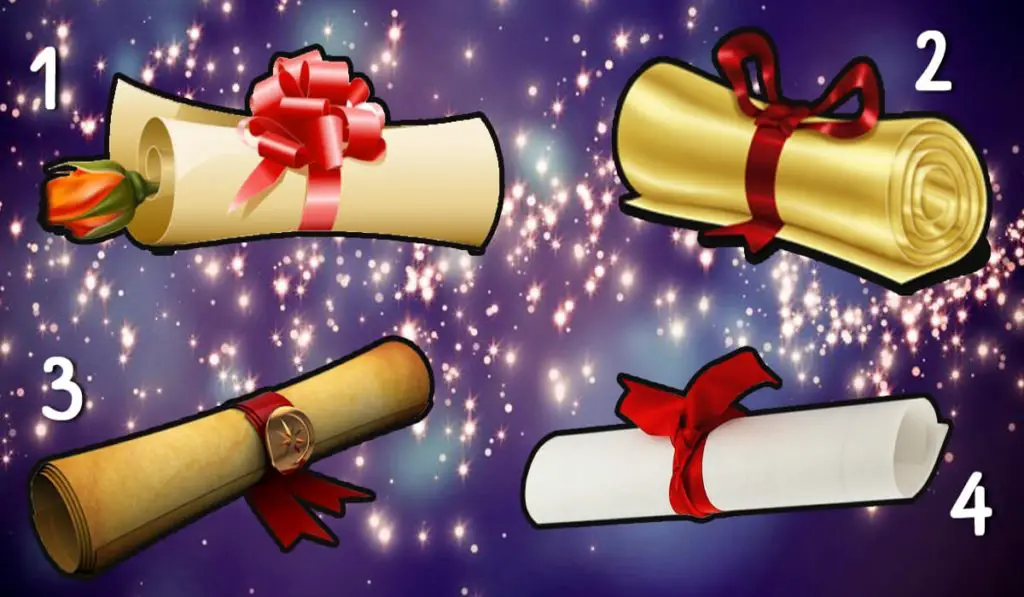 Life always gives us incredible surprises, but also sorrows followed by as many positive events. Like it or not, we would like to know what awaits us in the next to and this is why we rely heavily, despite the initial skepticism, on the various tests on the web.
The web is full of tests suitable for any situation. When I started trying a test, I was surprised by the result that was hidden behind it, sometimes we read just what we need to be told. That's why today we want to offer you 4 perpetually bearers of happiness, choose the one that strikes you the most, rely on intuition. 
Which scroll of happiness do you choose?
If you chose parchment n.1:
In the near future, you will get everything you have planned so far. But above all, love will spring up for you. You will be pleasantly surprised by the interest that a loved one shows for you. In the next few days, you will meet the right person for you.
Recommended: Choose a Christmas Tree to Find out What Your New Year Will be Like
If you chose parchment n.2:
You chose the golden scroll. The golden scroll symbolizes financial well-being. In the next two months, you will receive money, it can be a bonus, a precious gift or perhaps even an inheritance.
If you chose parchment n.3:
New adventures are waiting for you. It is time to take a well-deserved rest. It doesn't matter where or with whom, during this period you will have very useful and profitable knowledge.
If you chose parchment n.4:
You haven't been very lucky lately. But now it's all part of the past! In the near future, pleasant changes will begin in your life, and all questions and problems will be solved in the best way.
Recommended: Choose a Moon and Receive a Very Useful Inspirational Message
Share these scrolls of happiness with your friends.
Help Namastest raise the vibrations and share this article with your family and friends!